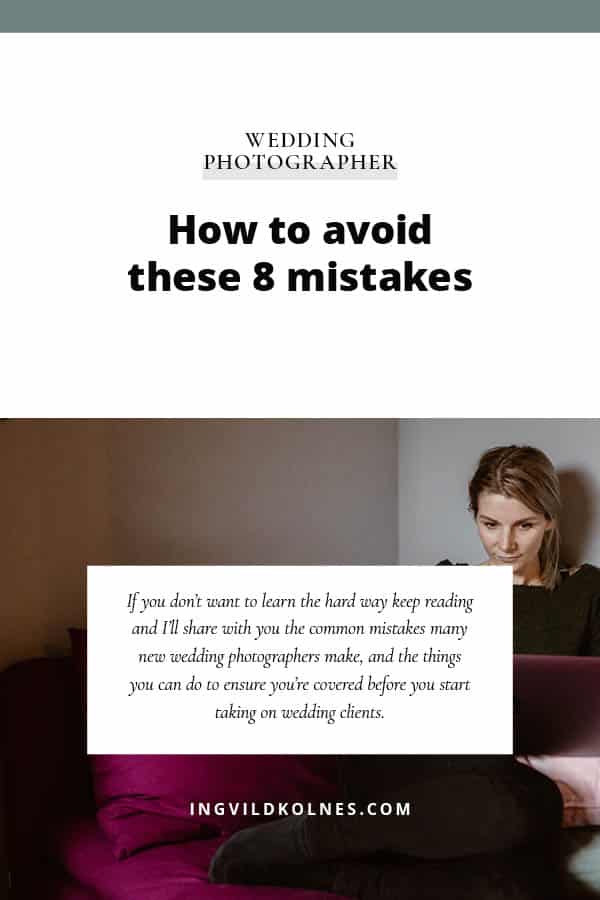 Not many people go to school for wedding photography specifically. It's something most of us learn by doing bit-by-bit. If you don't want to learn the hard way keep reading and I'll share with you the 8 common mistakes many new wedding photographers make, and the things you can do to ensure you're covered before you start taking on wedding clients.
1. They don't have insurance. There's no one size fits all, but you may need to insure your equipment as well as having liability insurance.
| Read also: How to get your first wedding photography clients
2. They haven't signed a contract with the couple. Don't skip this one. As soon as someone wants to book you, you have to sign a contract. It's so important both for you and the couple. It should include all relevant details such as names, location, price, additional costs, due dates for payments and for delivering images, what's included, travel expenses, limitations, and rights when it comes to your and the couples use of the images, what happens in case of sickness. Basically what to expect and what's required of each of the parties.
3. Their business isn't set up legally. Again, there's no one right way for everyone. In some places, you can take on a few assignments without needing a business, while in others you have to get the right permits straight away. Look it up!
4. They don't have the right equipment: You'll need cameras, lenses, camera bag, lights, computer (and software), Make sure you have a backup of everything, and plenty of batteries and memory cards.
| Read also: 11 steps from completed photoshoot to delivered images
5. They're not charging a non-refundable booking fee. It's important to set up an invoicing/payment system to be able to start charging people right away.
6. They don't have enough practice using their camera gear: There's no shame in starting out with Aperture Priority mode to get the hang of things. It is a good idea to get skilled in manual settings though both to understand the camera and for all those tricky lighting scenarios when the camera won't do what you want it to. Learn to use the camera and lenses. Shoot in all different lighting. Practice using flash.
7. They don't know what to ask their clients: this is a big one! You want to know all about the locations and times. Map out how the day unfolds and share it with your couple. Make sure there's enough time in the day for portraits and talk about what to do in case of rain. I always want to get to know my couples personally and ask them lots about themselves and all the most important aspects about their day.
8. They don't know the wedding day timeline. This teaches you lots on where you should be to get the right shots. Lots of times the couple themselves don't know everything so make sure you listen to other wedding vendors when you can.
| Read also: 11 steps from completed photoshoot to delivered images
If you really want to succeed and come across as the serious and professional wedding photographer you can download this list filled with all the things you need to take care of.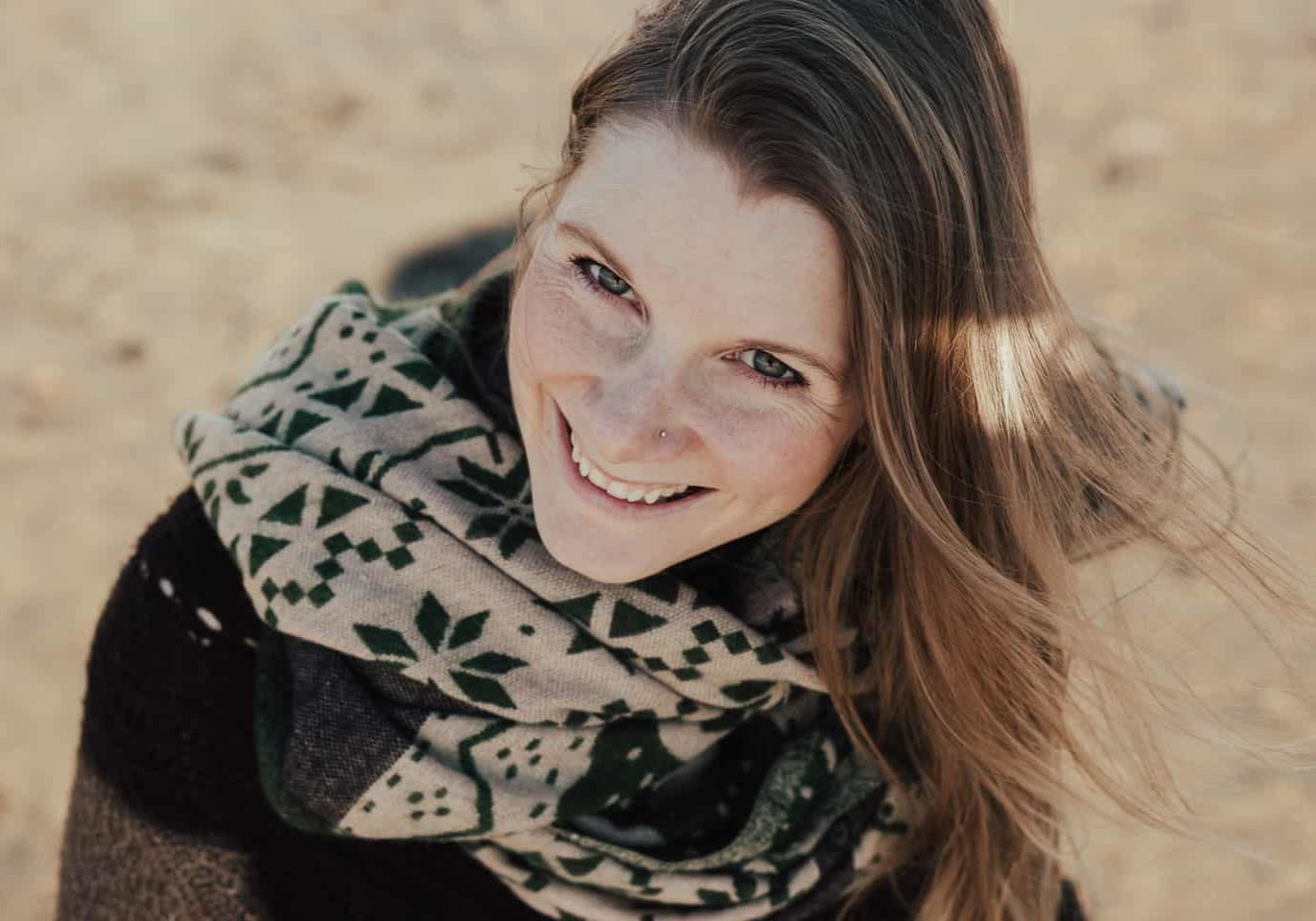 I spend as much of my time as I can being outside taking photos of happy couples in love. I live with my dog and boyfriend in Norway, and I love traveling the world in search of beautiful locations and love stories.
DOWNLOAD THE FREE 'how to book your first wedding client workbook' HERE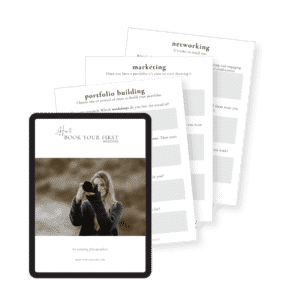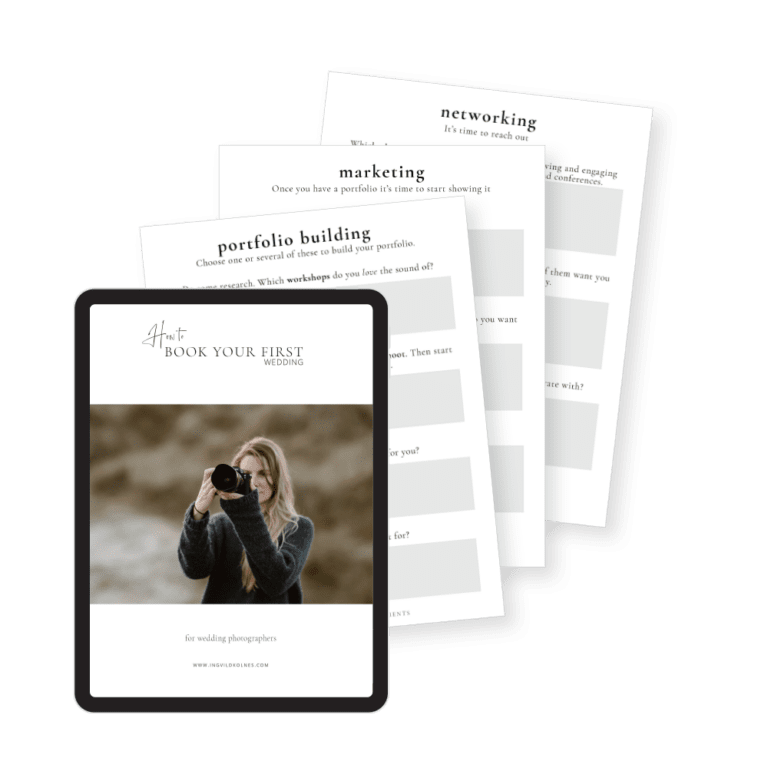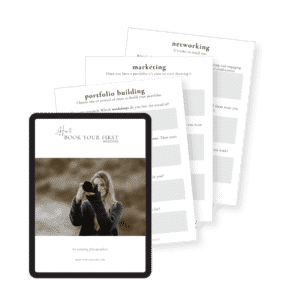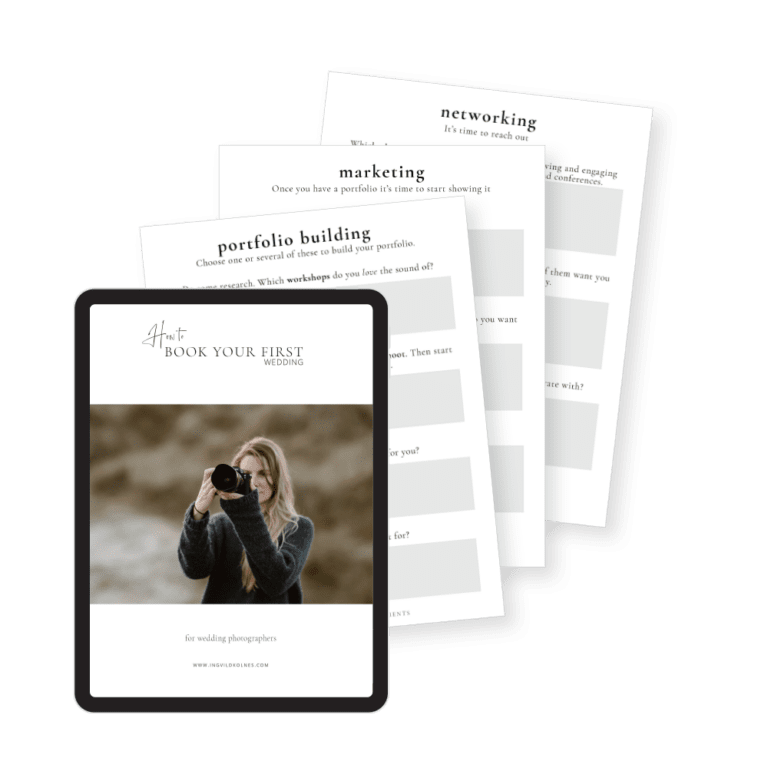 DOWNLOAD THE FREE 'how to book your first client workbook' HERE
When you sign up for this free guide, you'll also get added to the email newsletter. Of course you can sign off at any time, but I can promise you a lot of stories and value. Check out the privacy policy, and know that I would never abuse your email address.