A group mentorship program that teaches you what you need to know to have a profitable business.
You know how to take beautiful photos of your couples and their weddings, but you feel like you should be making more money by now.
Your workload seems to be never ending, and you're up half the night trying to get done with editing, emailing and keeping up with social media.
are so busy!
are not in love with the clients you get.
feel like you're on the brink of burnout half the time, and your creative inspiration is slowly dying.
know your prices are lower than your competitors. And you're not making enough money to live comfortably.
THESE QUESTIONS are going through your head
How can I keep up with all the work?
Is it normal to spend so much time editing?
How many weddings are enough?
What should I really be charging?
How do I attract couples who pay me what I feel I deserve?
And what do I do to get clients to fall in love with my work so that they want me for me
let's get you to make more money in less hours,
while you work with clients you LOVE
You're ready for the next level
Say no to inquiries because you don't want to (or have to) shoot a wedding every weekend- you get to spend summers with your friends and family too.
Finally work with couples who trust you are willing to do what it takes to get those epic photos you started your business to do.
Build your business to be so profitable that you can live the comfy life you want- where you get to travel, eat fancy food and be far away from monthly money worries.
Learn what you need to build a profitable and sustainable business.
The steps and methods you need to create a sustainable and profitable wedding photography business.

Practical and specific tips and resources for moving your business forward towards.

All action steps are broken down, so you don't need to have everything figured out.

You'll learn to attract more clients you'll love working with. You'll be guided through the process of figuring out who you want to work with, and how to book them.

Creating a seamless experience that will get you referrals, testimonials and raving clients!
I WOULD RECOMMEND THIS TO A FRIEND!
Having this mentorship experience with Ingvild was truly a light for me. First because I love her work, the true passion in her pictures, her personality, the light and editing, everything inspires me! Having the opportunity to have the photographer that inspires me the most as my mentor, that means a lot to me, and words can't explain how I feel… I'm just really thankful and grateful for this amazing experience.
Su
// Photographer
A mentor for talented wedding photographers who want to have a profitable business. A business where you make good money and attract clients you love working with. All while maintaining a healthy work-life balance.
I thrive on learning and growing my business, and I've gathered all my knowledge to give to you. Why? Because I've been there.
I've made all the mistakes and taken all the detours. I've charged way too little and taken on every wedding in sight without a second thought. This led to both burnout and working with couples I didn't truly resonate with.
But, I figured it all out, and even though it took me a long time, I'm now booking epic elopements and beautiful weddings. And I've made everything I've learned into a system that I want to teach you. How to calculate your rates so that you know that you're profitable. Empower you to say NO, so you can have weekends off every summer - and when a couple just isn't the right fit. How to outsource and automate to free up your time and mental space, not to mention get your creative juices flowing again. I'll teach you how you can shoot fun weddings, where your couples really care how their day looks and feels. After almost a decade as a wedding photographer, I can help you get to where you want to be. I'll even help you figure out where that is.
Wouldn't it be great if you could turn your business around and get to the next level?
Isn't it time to charge more and do fewer weddings instead of working non-stop without getting much in return? Don't you want to work with couples you love, rather than just anyone?
Make more money, so you can enjoy life more.

Attract the right clients that will give you your creativity back.

Spend less time working in front of your computer.
starting at the beginning, making sure you have clear goals and a plan for moving forward.
breaking down your numbers to make sure your prices are profitable and you'll be clear on who you want to work with.
building a brand and having a marketing plan to start attracting the right clients!
maintaining boundaries and taking care of the things that matter most in your life. Because no matter how much you love photography, it's important to look at the whole picture.
You'll learn how to build your business,
get clear ACTIONABLE steps to take,
and the option to ask questions in bi-weekly video calls.
You answered all my questions and gave excellent feedback.
I definitely had the best experience with you. You were by far the most knowledgeable mentor I've had.
Your feedback and advice helped clear some of my doubts and questions that another mentor wasn't able to. The advice you gave me on pricing my photography was a ginormous help. It gave me some solid ground to build on.
Mariana
// Photographer
Self care and mindset. This is the cornerstone of the work we do. The way you think affects all aspects of your life – including the way you run your business. We'll focus on self-care and setting boundaries throughout the whole process. This will help you get your life back. You'll have more free time, feel more grounded and more confident.
Chances are that you're spending way more time working than you have to. And there are lots of ways to increase what you accomplish in a month. I'll teach you how you can work smarter - not harder!
STAND OUT FROM THE CROWD.
Starting with you. Getting clear on your strengths and figuring out your why.
Improve your productivity and workflow. And as a bonus- you'll learn how to get those raving testimonials from couples who adore you.
You've imagined the level you want your business to go to- so let's make a plan and get you there.
Figuring out who you want to work with so you'll figure out how to attract the right kinds of couples. Be the photographer for them - not just any photographer.
Let's be honest – money matters. Money means freedom and possibilities. Included in the program is my pricing kit that helps you figure out your rates in a simple way to ensure that your business is truly profitable.
Make sure everything you do is on-brand. Everything from your language to your colors matters and need to be cohesive to stand out, look professional and appeal to your dream couples.
Start attracting clients, through social media and google.
You'll learn step-by-step marketing strategies to help you get found by the right kinds of couples.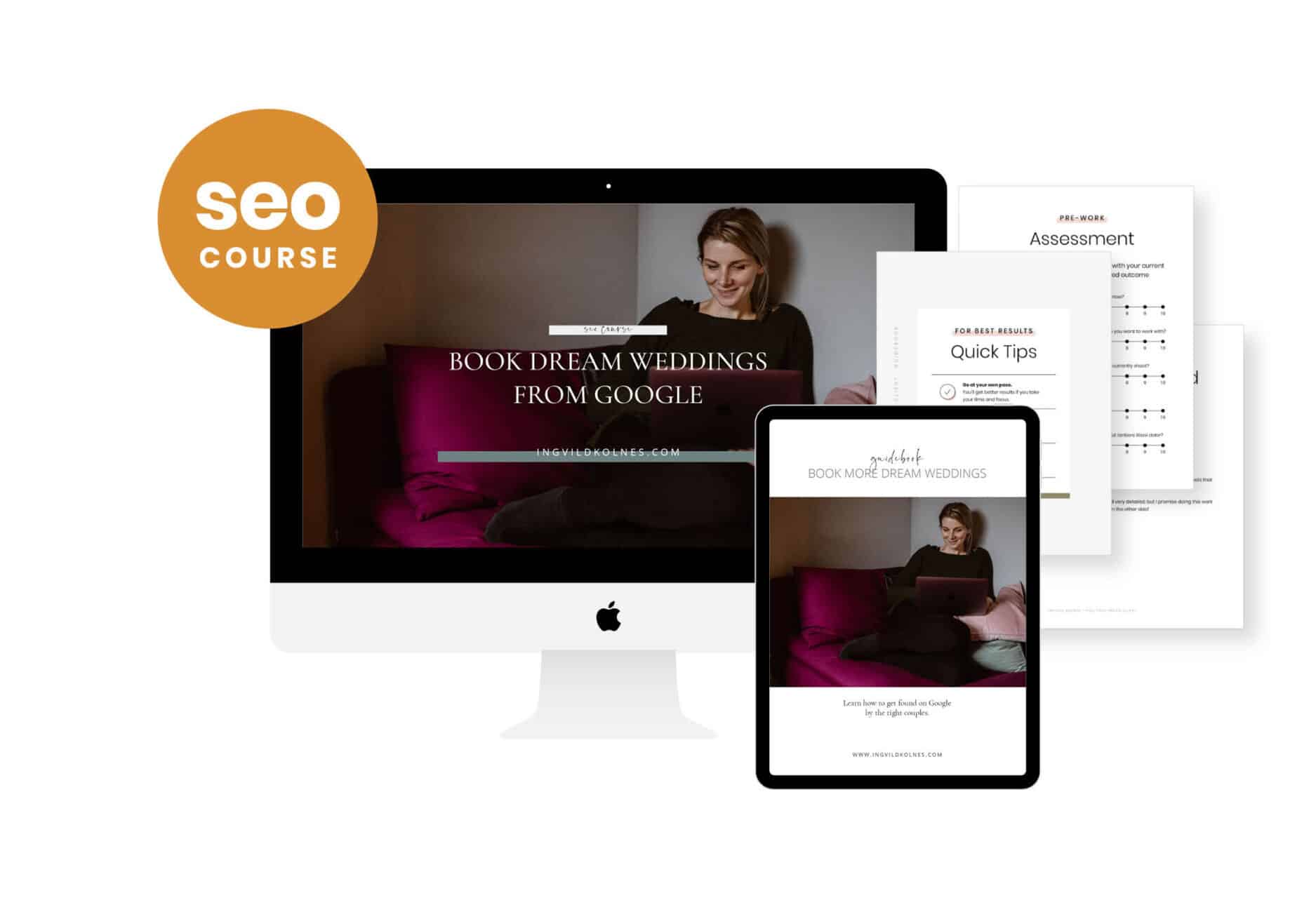 - a powerful game plan to booking dream couples online.
This course will take you from begging for more weddings to shoot to having to turn couples down.
THE COURSE WILL TEACH YOU HOW TO:
get your website showing up on google
create information and inspiration that your dream client will rave over
build a website that will get couples rushing to contact you
have couples booking you, instead of ghosting you
...all in a simple and practical way, without wasting time on things you don't need to know!
Normally $594 - now included as a limited time bonus.
prep
PRE-WORK
Before the program starts you'll get access to a guidebook that will prepare you for our time together.
support
FACEBOOK GROUP
Having a support system and a community is worth its weight in gold! 
watch
VIDEO LESSONS
New content is released on Mondays, giving you what you need to improve your business, from the inside out. The videos come with interactive guidebooks to make sure you don't miss anything. Also - you get every 4th Monday off, so you can catch up.
talk
BI-WEEKLY CALLS
Every two weeks there are group coaching sessions where you get your questions answered. This is to make sure you're on the right track towards your goals.
Sprinkled throughout our time together there will be templates, worksheets, and checklists, to keep you on track and so that I can hold you accountable
Danielle Garber
Brand essentials
Danielle is a brand designer, strategist and marketing expert who blends 17 years experience of working with the likes of Apple, Amazon and other leading brands with the goal to lift the voices of passionate business owners trying to make a difference in the world.
Kate is a Pinterest guru, who teaches how to attract your dream clients with ease and book out your calendar using Pinterest. With almost a decade's worth of digital experience under her belt (from leading successful digital agencies to managing an internationally successful eCommerce business), she now works with heart-led and ambitious women to grow their passion into a profitable business.
Henna Koponen
Composition
Henna Koponen is an untraditional and artistic wedding photographer living and working in Helsinki, Finland. She has been photographing weddings for over 10 years, and makes carefully curated, designed and planned art of each wedding. Her work is the clear evidence of her love for light, intimacy, composition, form, and space.
Charlene Pires Campbell
Branding
A graphic designer and branding strategist with around 20 years of industry experience in design and marketing. She's worked for large global corporations to small franchised businesses and has worked both client-side and agency side. With The Brand Explorer programme, she'll take you on a journey to define your brand to map out it's destination.
Charlotte Isaac is a Business Operations Consultant and lifelong ease-seeker. She offers Dubsado training and setup services for creative businesses who want to automate their client services and find the freedom to grow.
Elisabetta White
Networking
Elisabetta has planned weddings and shoots in bucket-list destinations, such as Tuscany, Venice and Puglia in Italy, the Red Sea and Switzerland, in dream venues like the famous La Badia of Orvieto and the iconic Masseria Moroseta. She has also been featured countless times on international wedding blogs and magazines, such as Elle.com, Junebug Weddings, Rock My Wedding, Brides, and You & Your Wedding magazine.
Paula Janse Van Rensburg
Mindset
Paula has been an entrepreneur for the past 14 years. She's a passionate, results-driven, nature-loving and bubbly drinking heart-centred barefoot and transformative business and personal coach.  She helps female entrepreneurs to activate their souls to amplify their income by expressing their brilliance!
Cheryl Oliver
Email list building
Cheryl is a marketing coach for course creators. She's also a mother of a cheeky toddler, an expat South African living in the UK and a bit of a shy nerd. She loves funnels, data and everything about hands-off selling.
Qt Albums
Album sales kit
QT albums are a small bindery located in the heart of Europe. They offer the very best quality at the very best price when it comes to albums. They love building a personal relationship with each of their clients.
Ursula Kelly, is the owner and director of her own photography and video production companies for over 20 years, during this time she's won multiple awards for her work and helped 1,000s of individuals, entrepreneurs, celebrities, coaches + CEO' to look and sound amazing on camera.
In three months you could be exactly where you are today; Doing too much work for too little money. And being just as exhausted and close to burnout as you are now.
Because if you don't take a step forward, that's where you'll stay. Exhausted. Broke. Stressed. Confused. Burnt out.
You don't want that. You want to thrive. Succeed. Feel creative and happy while you're making more money, and working less. For a limited time, you can join this program which will guide you to reach your goals.
Start improving your business now!
How much support do you want?
Tiril is a psychologist turned photographer; a mother, writer, and dreamer, with a passion for raw, honest moments and the quirky, imperfect details that makes life so beautiful.
Henna Koponen
Composition
Henna Koponen is an untraditional and artistic wedding photographer living and working in Helsinki, Finland. She has been photographing weddings for over 10 years, and makes carefully curated, designed and planned art of each wedding. Her work is the clear evidence of her love for light, intimacy, composition, form, and space.
12 week group program with video modules, workbooks and live group calls - STARTING NOV 2ND
$275 x 5
Monthly Payment Plan
get on the VIP track
+$597
Get 6 x 45 minute 1:1 calls for accountability and a hand to hold while transforming your business.
$390 x 5
Monthly Payment Plan
Get 6 x 45 minute 1:1 calls for accountability and a hand to hold while transforming your business.
VAT is added for clients located in Norway.
Frequently asked questions
The program was made for you! If you can set aside 30 minutes a day you'll save a lot more time than that in the long run! Part of the program focuses on time-saving methods. Not to mention setting boundaries. I bet you take on more than you should and probably get lost on Instagram more than once a week- am I right?!
It depends on how committed you are and how much work you put in. Some of the changes you make will have a rather instant effect to your business, while others you do for the long term effect.
YES! Once you learn how to price your wedding photography AND learn to market to the right clients, you'll be making your investment after just booking one wedding.
The doors are open now, and you'll get access to the first modules right away plus the bi-weekly calls as well as the facebook group. 
Are you where you want to be yet? Do you recognize yourself in these statements? If so, then I know I can help.
After signing up you can start the pre-work workbook, and after the program, you'll be left with an actionable step-by-step plan to follow.
Of course. You can choose to pay the whole amount up-front, or sign up for a monthly payment plan. No reason not to sign up straight away.
The program is tailored to those who have been doing wedding photography for a while. Someone who KNOWS how to take beautiful photos, but they're stuck and not living their full potential.
If you're completely happy in your business or you're not interested in doing the work to get to where you want to be, this probably isn't for you.
I was able to jump right into business planning and get work done with confidence and assurance.
I was feeling stuck and unsure on what steps to take to get my business started. After my mentorship there was so much clarity and I was able to jump right into business planning and get work done with confidence and assurance.
Thank you! Thank you!
Lakin
// Photographer
If you're ready to make more money while you work less (and enjoy your time more),