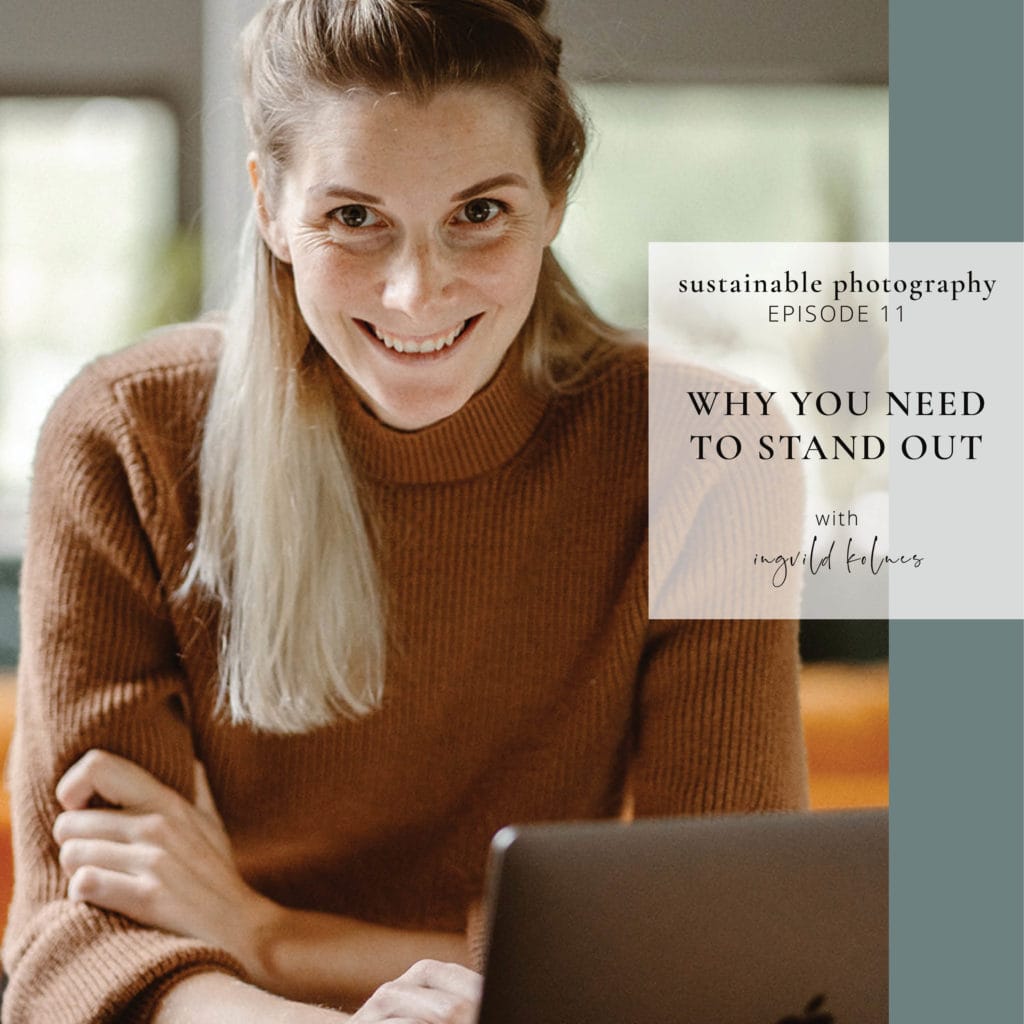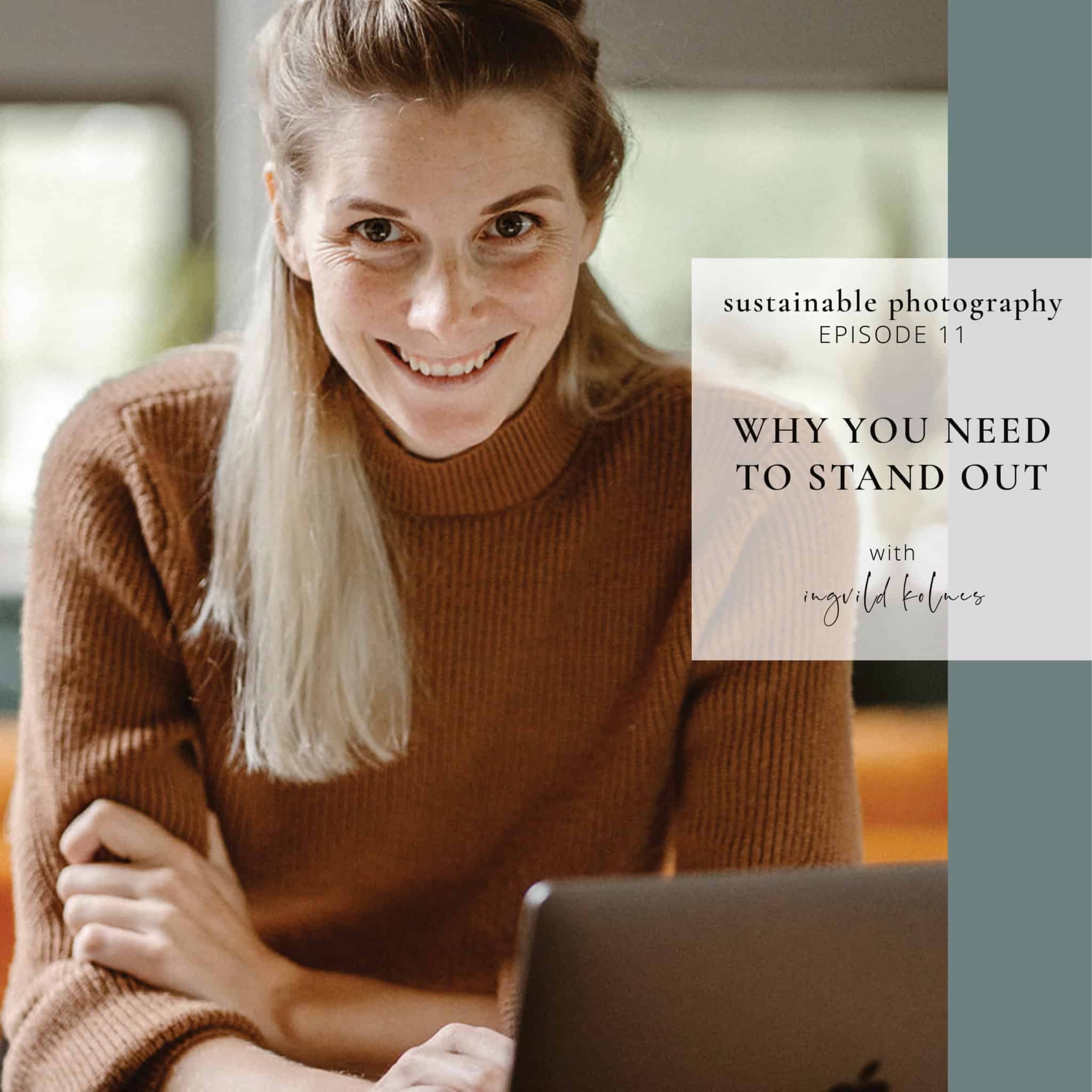 If you're just one of too many, it can be really hard to stand out. And the chances are high that price plays a huge part in getting chosen.
I once had a couple tell me they chose me because I was the cheapest, and it did not feel good. If you show your personality and your values, you're more likely to get booked because of that. And you can charge more because you're unique, instead of just another one. So booking more can look like more shoots, for more money or more of the right people.
When you're showing up as yourself, you'll start to attract Better clients. And by better, I mean people that are more like you. One photographer's dream client is another photographer's nightmare, which is SO great. There are right people out there for you – you just have to dare to show up as yourself instead of hiding away or trying to be someone you're not.
The most unique thing about you could be what you're most afraid of showing – which might be the things your right clients would love the most.
You need so few clients; you might as well only have the ones you'll most love working with.
If you haven't checked episode four, you might want to check it out!. We talk about everything about branding and choosing the right clients. This episode's special guest is an expert in the marketing industry who has worked with amazing companies such as Amazon and Apple. You will find so much value in this episode!
Listen to the episode "The importance of branding with Danielle Garber"

Episode 4
What'll happen if you don't stand out
If you're too similar to other photographers, there might not be anything that's catching people's attention. Wedding photography is not something anyone needs. It's something people buy because they want it. They want the memories from their wedding day. They're basing their decisions on how they feel. If you're using the same words as someone else, or your style can't be distinguished from others, why would someone choose you? Taking good photos isn't enough to get booked because there are so many out there who have good photos to show.
Shortcuts like trying to look like someone else that can work for a while, but everything will be so much simpler for you if you spend some time upfront to work out who you are, what you want, and who you want to work with. That way, you know what to look for when you're stuck and need to make decisions.
Who is your dream client?
If you are like everyone else, you'll end up with more of the same bland clients. Or clients who aren't willing to pay. You get more of what you do and share. If you dare to say no to those who are a wrong fit, you'll free up space to take on more of those you want to work with. If you're the kind of photographer who takes on lots of shoots in a year, it's not that big of a deal if you take on the occasional "not dream client."
Of course, you can do some work that's just there to pay the bills. But if you're a wedding photographer that only takes on a few weddings every year, it's really a shame to give away one of those slots to someone who's the wrong fit for you. And you also have to work with each couple for months, maybe even years, before you're done, so it'll suck the energy out of you if you're not careful. Not to mention giving you more of the same clients you don't want.
A lot of photographers are scared of those who undercharge. And feel they have to lower their prices as well. I'm not one of them. Of course, I see it as a threat to the industry as a whole, which is part of why I want to do education, but I am not worried about my own business. Because I am clear on who I am and what I stand for, my dream client would never even think to choose someone with low prices. My client wants high quality and a carefree, great experience. Which they are willing to pay for. But what does your dream client want?
Why and how you can set yourself apart
Standing out is about more than just getting noticed. It's about building a connection with people who think the same things as you, who value the same and want what you have to offer. Finding your unique superpower isn't necessarily about being so unique. It's sometimes even just about stating the obvious.
The most important thing is how do you do this? Where to start?
First, you have to get to know yourself. What is unique about you?
And discovering this sometimes can be more challenging than you may think, especially materializing it into your business and reflecting this to people.
Remember that you are not alone in this process. I want to help you find the right clients for YOU and enjoy what you do while getting well paid for it.
Check out the Sustainable Photography mentor program, where we can talk about creating a profitable photography business by diving into who YOU are as an individual so that you can do what works best for YOU.
Your superpower is your personality
Me, I'm an introvert. I struggled a lot with this before and tried to learn how to take up more space. That, of course, did not work, and I didn't think I could do photography. One day in the elevator at a wedding, I met another photographer. He was talking and asking questions to those in the elevator. Later I saw him outside taking up a lot of space, just being himself. I then realized that my superpower is me, my personality.
I decided to emphasize the fact that I was more of a wallflower. No one would notice that I was there. They would get real, candid moments. My way of posing is telling them to be themselves instead of forcing myself on them. I'm focusing more on the experience they get.
You as a photographer are not selling just a photo; you are selling the whole experience behind it.
Check out episode 5," Book more clients by creating an experience."
Describing who you are and what experience you will offer will attract only those who want a photographer like YOU and will book.
In my case, as an introvert, If they're looking for more of a clown who puts on a show and makes everybody laugh – they wouldn't be happy with me. So, of course, I wouldn't want them to book.
If you're an introvert, too, definitely check out the episode with Rachel Fugate that is coming next week!. We will talk all about being an introverted photographer.
That's why it is a great thing to be aware of and use your uniqueness in your marketing and your booking calls. If you're fun and bubbly and take up a lot of space, make sure that shows on your social media. Use video and share with your potential clients, so they know what to expect from you. Most people have never worked with a photographer before. And you're doing both yourself and your clients a favor by sharing what they'll get from you. You'll have a better time; they'll have a much better experience, which will lead to better reviews and referrals.
You also have to build your confidence and mindset. Showing up in a way where you share more of yourself can be pretty intimidating. Go back to episode nine, if you want to learn more about how important mindset is for your business.
Listen to the episode "The power of your mind."
Conclusion
I'm sure you think that if you share more of who you are, some people might not like you. And that's probably the case. Everyone can't like you. By standing out, you'll start Attracting people who DO like you and lose others along the way. And that's a GOOD thing. You can't take on ALL the clients, right?. So you might as well focus on the kind of people you like the most. Who has your type of style, and who has your values. Who trust you and want YOU as their photographer.
Think about how you can help your dream clients. What do they need from you?
Talk about what you are all about – stay positive rather than focusing on others. I hope you find all of these helpful and embrace your personality into your business, remember that when you show your personality in your sales pitch, you will get those clients you really want to work with and will have a better time, which means client satisfaction, great reviews, more referrals, and of course, more revenue for your business!
Want more?
Learn more about the Sustainable Photography Program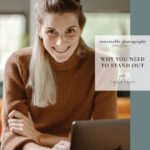 This podcast is all about education and inspiration for photographers. A sustainable business is profitable and lasting. Instead of short-term wins you want to make sure you're doing things that matter. Both to yourself, and to create the business you want. The goal of this podcast is that it will help you build and structure your business around your life, instead of the other way around.