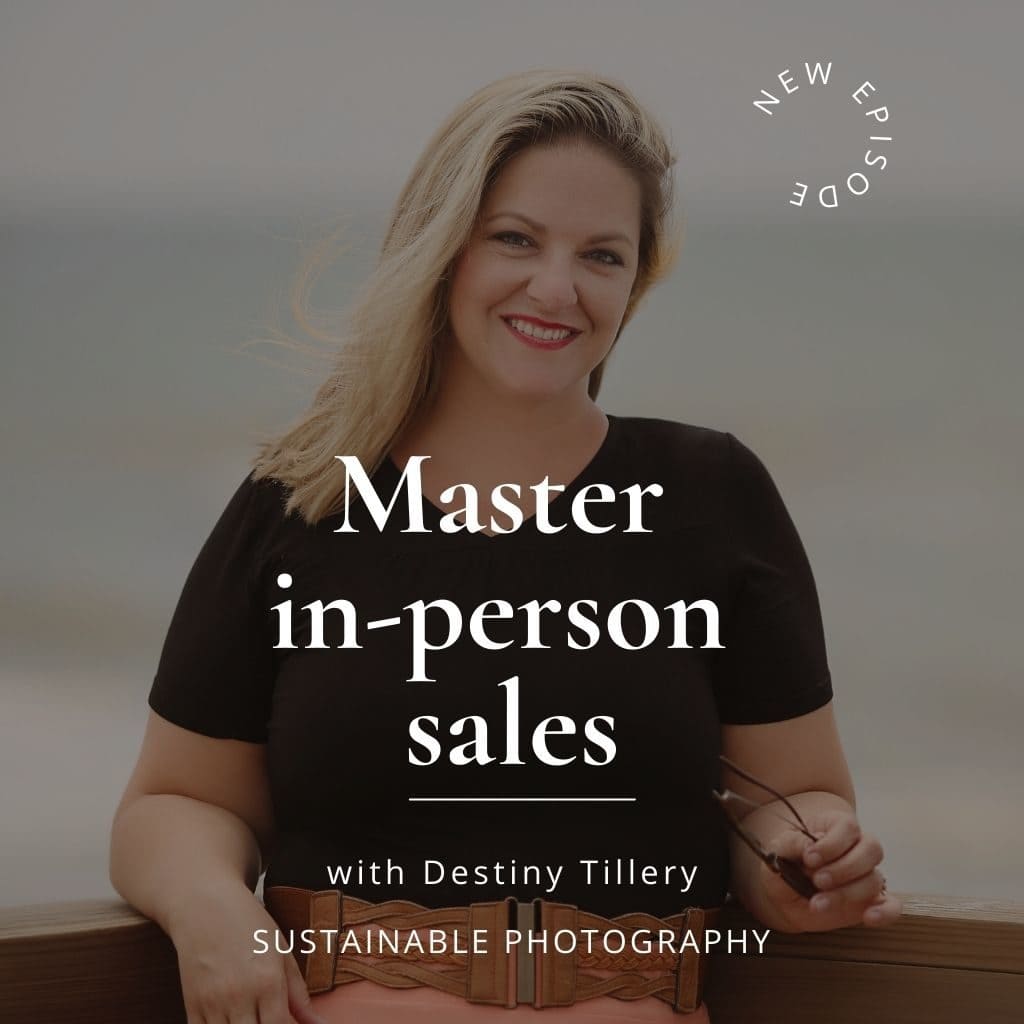 Are you a photographer who thinks the thought of in-person sales is terrifying? A lot of photographers don't have the time for or are just afraid to sell face-to-face with clients.
In this podcast episode, Destiny Tillery talks about doing in-person sales.
Destiny Tillery, a Mississippi homeschool momma of 3, award-winning newborn photographer, business coach, and host of the IPS Made Easy Photography Podcast, teaches photographers the strategies to grow their businesses through in-person sales. She believes that profitability is directly tied to service and has found IPS to be the catalyst by which she and many photographers serve best and become successful.
Destiny can often be heard talking about how in-person sales don't have to be hard or "sales-y"! She truly wants all portrait photographers to ditch the fear and to be wildly successful so they can enjoy a sustainable business for years to come but most importantly, get back to the people and things in life that matter most.
What makes a business sustainable?
Having a sustainable business allows you to spend more time with your family while making sure that your business has longevity.
Longevity means you can have sessions that bring you income that is consistent and reliable. But, sustainability can be different from when you were 5 years in business compared to now. It differs for everyone.
It is also important to have systems in place, like marketing tools that will make you get clients again and again. And make sure you're charging enough so that you're making enough money. That's sustainability.
Learn more about sustainable business

Episode 3
Doing in-person sales
You can still use online galleries, but when you're doing in-person sales, you should always charge a sitting fee.
After you shoot the session, it's best to be clear on the delivery date. Your client should be aware of what date you will meet to go over the photos. If you want to get good at in-person sales, always keep your promises, and deliver on time.
To summarize the entire process, you charge a sitting fee, do the session, set a date for the meeting, present the photos, and show them samples of products. Ask them about what their goal is, what their vision for their photos is, and how they would like to display them.
Learn how to book more clients by creating an experience

Episode 5
The best part of doing in-person sales
When you do in-person sales, it's getting your client's perspectives in a whole different way compared to just delivering images online. There's no more wondering whether they like your photos or not. Because you get their feedback firsthand. It is not high-pressure sales, it is not manipulation.
If your client is really far away, you can do zoom calls ahead of time, and show them your products. When you meet, have all the products that you offer on display so your clients will be able to see them. They can put their hands on them, see how they look in real life and even look flip them it becomes a different experience instead of doing everything digitally.
Learn how to make more money by selling custom products with Lovise Gard

episode 38
Avoid mistakes when doing in-person sales
Be clear on your timeline and payment terms.
Prioritize to finish your work on time and follow deadlines.
Never apologize for your prices. It's your income and it has to cover your expenses and bills.
Don't offer too many products because you can overwhelm your clients.
Stop offering pricing guides that are confusing or complicated.
When you offer your packages, pause and let your clients think about it. Let your clients decide what they can afford.
Trust your clients, they know what's best for them. Don't talk your clients out of it. And a lot of time the inflections in our voice will tell if we are questioning their decisions.
Choose your niche and stick with it.
If someone doesn't order anything after doing an in-person sales meeting, don't be discouraged. If someone doesn't choose to buy, they probably wouldn't have appreciated what you have to offer anyway.
Destiny wants you to know
In-person sales don't have to be difficult nor does it mean high-pressure sales. When service is the main goal, sales follow organically.
Join her free in-person sales mini-course
Want more?
Ingvild Kolnes is the host of the Sustainable Photography Podcast, an educator for photographers, and is ready to help you with your photography business.
Sign up for a 5-day workshop on making profitable packages!
Learn more about the Sustainable Photography Program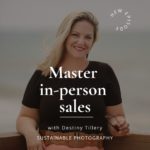 This podcast is all about education and inspiration for photographers. A sustainable business is profitable and lasting. Instead of short-term wins you want to make sure you're doing things that matter. Both to yourself, and to create the business you want. The goal of this podcast is that it will help you build and structure your business around your life, instead of the other way around.