74. How to master ethical sales for photographers with Michelle Terpstra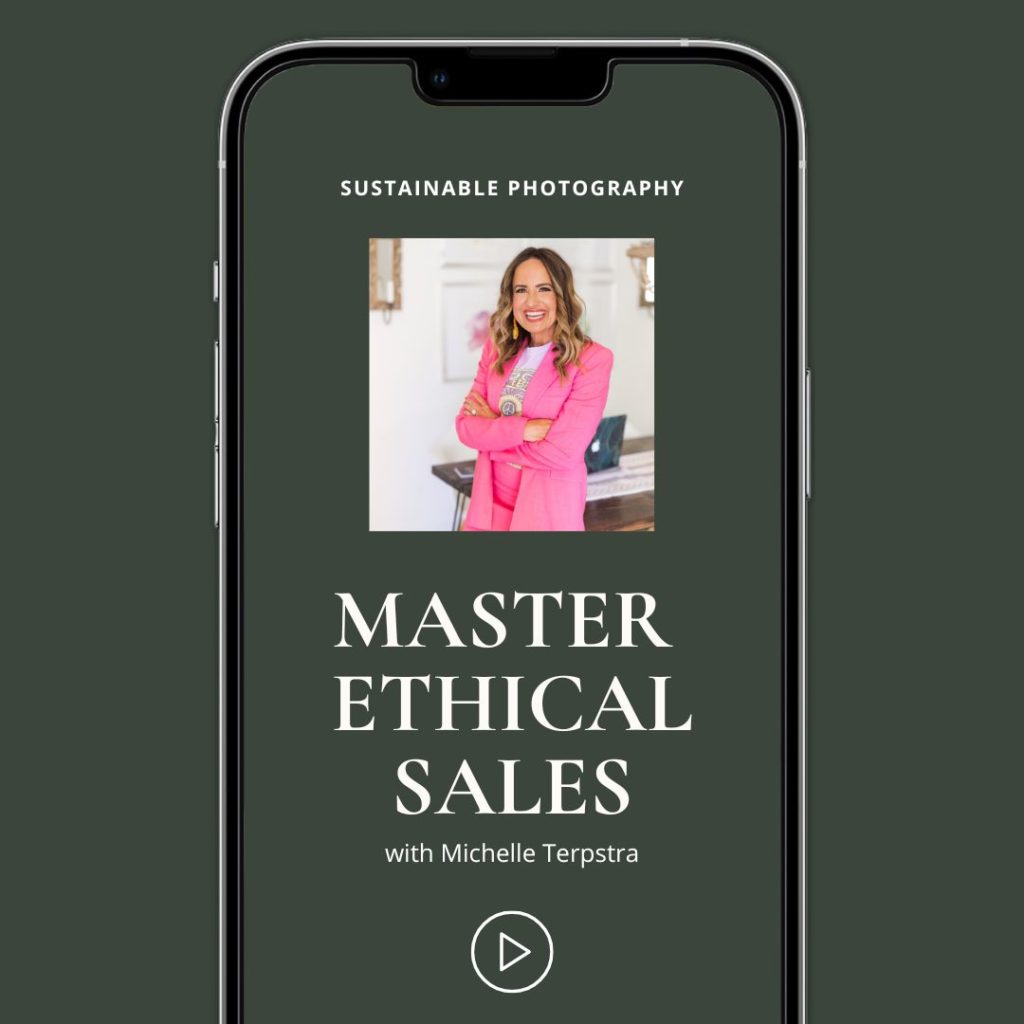 Are you a photographer who's not confident when it comes to doing sales? This topic might be a bit uncomfortable but your business has to grow and make a profit. It's time for you to love selling!
In this podcast episode, Michelle Terpstra will share all her knowledge when it comes to doing ethical sales.
Michelle is a sales coach and strategist. She has worked for a Fortune 500 company and struggled to balance her drive for success and her desire to control her schedule and lifestyle. Now she has a booming online business that aligns entirely with her financial and lifestyle goals. And it is her mission to help thousands and thousands more entrepreneurs master these skills so that they can also grow their businesses with ease, joy, and purpose.
What makes a business sustainable?
A sustainable business means having things you can rinse and repeat for success. If you don't have that, you'll burn out. You won't be able to double down on the things that actually work well, and you'll be frustrated. You'll feel like you're starting over all at the time, and you won't get the traction and the joy that you should be getting. 
Many business owners are multi-passionate. You have to remind yourself that sometimes when you say "yes" to things, you're saying "no" to things that are more profitable. And that can take you away from actually achieving your goals because it robs you of that opportunity. 
There is success in selling
Selling is matching. And without being great at selling, you will never know if you're a good match. You will never know if you can make an impact in someone's life or the other way around. 
The trick is to make profit as the last thing on your mind. The first thing is for you to get to know the person. Do they have a problem that you can solve? By thinking this way, you ask the right questions and get the answers to whether you and your client are a good match.
Learn how to build a profitable business.

Episode 7
The matchmaking process can be your discovery call, or if you have communicated this well on your website or social media accounts. Whichever way you communicate for sales, it is the matchmaking process that is incredibly important, especially in photography. Working with the right people is so important.
Mistakes to avoid when selling
Learning to sell is the key to success. Here are some of the mistakes to avoid when selling:
Not being clear on what you sell. If you are not clear on what your packages are, your pricing, who it's for, and your niche, there is too much vagueness. When it's vague, it stresses you out and it leaves the buyer confused.
Not doing sales. A lot of photographers avoid this. To encourage and push yourself, you can ask for a friend's help or hire a mentor, or join a professional group where everybody is learning sales. Make selling a part of your business routine. 
Not being confident when you're selling and not being in a place of authority. You have to build rapport and be the authority. It means that you are able to lead a sales conversation, close a sales conversation, and provide an amazing offer.
Selling isn't just kind of the interaction when you're sitting down talking together, maybe sharing a proposal. It starts with sharing on social media or having a visible website where you know you're doing something to make sure your brand is visible.
Learn how to improve your website to book more clients

Episode 61
How to sell more
The formula is to have a front-to-end funnel. You have the front, middle, and end funnel. The front funnel is your website, social media, your YouTube channel, or wherever you are visible. Its job is to capture some initial information from your client. It can be a follower or an email address, or an inquiry form filled in for example. The mid-funnel is nurturing and your potential clients are experiencing things from you. It could be your emails, or it could be more social media content. It could be a live event or any activity online. The funnel end is the actual sales conversation and the selling goes through all of it.
If you're not feeding your pipeline (your pipeline is simply somewhere where you keep track of opportunities that you have to work with people) it's really hard to sell if you don't have anybody to sell to. 
For most photographers, a powerful website is a perfect way to start. You can also use Instagram but keep your engagement high.
Sharing your prices also makes it easier for you to sell. It makes you more visible to clients who can afford you. Be transparent about what your brand offers but also remember that other people's money is not your business.
As you're building a business, you can predict your income and create sustainability, and set goals. 
Michelle wants you to know
According to all the "gurus," having fun and selling is impossible. However, if you ask one of the thousand people I have coached, you will find out this is not true. Persuasion, influence, confidence, and leadership can be learned. Once this power is unlocked, you can access any dream you desire.
Connect with Michelle
Want more?
Ingvild Kolnes is the host of Sustainable Photography, as well as an educator for photographers, and is ready to help you with your photography business. Sign up for the 5-day live workshop series that will help you create profitable packages that will happen this March 20-24.
Learn more about the Sustainable Photography Program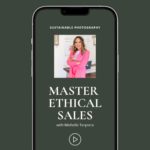 This podcast is all about education and inspiration for photographers. A sustainable business is profitable and lasting. Instead of short-term wins you want to make sure you're doing things that matter. Both to yourself, and to create the business you want. The goal of this podcast is that it will help you build and structure your business around your life, instead of the other way around.