62. Dare to start over and make money in your photography business with Evelyn Wallin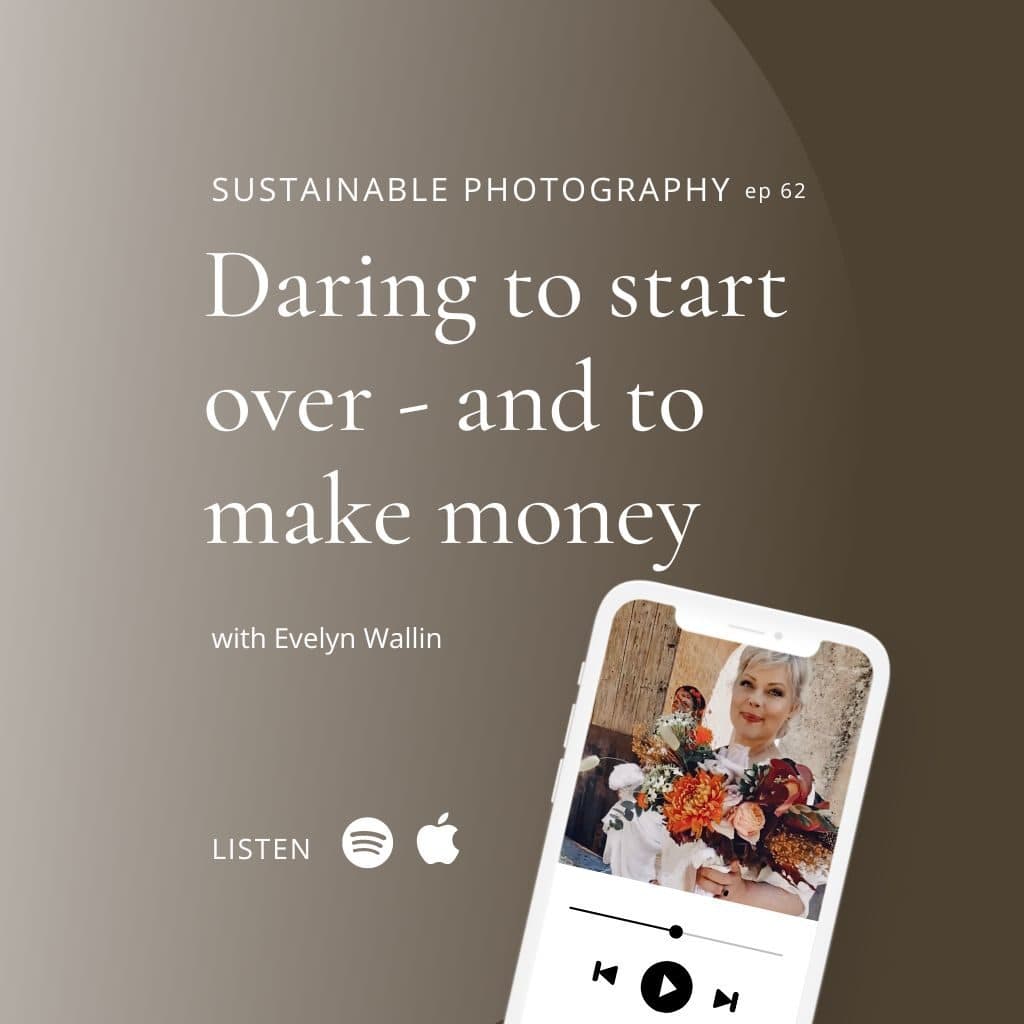 Evelyn Wallin was a pediatric nurse that became a full-time photographer after two years of working part-time with photography. It all started at her wedding when her husband gave her a canon camera and a lens, but it started much earlier than that. Three months after the wedding Evelyn launched her website. She had her first wedding as the head photographer while 35 weeks pregnant and the second was 6 weeks after her baby was born. And then she nuanced down to elopements and personal weddings, Evelyn also won a silver medal in the Swedish championships of photography (category wedding) and has earned her journeyman's certificate and much more. Also, she works on her fear and imposter syndrome often so it doesn't stop her.
A lot of photographers can relate to this question, "What's holding you back from making more money in your photography business?"
Why aren't you doing the thing that you want to? Why aren't you going all in as a photographer? Like different kinds of questions like that and the answer that most people reply to, especially women is, "I don't believe in myself", "I don't think I can do it" or "I don't think I'm enough". And it's so sad because you have to understand that you are good enough.
First things, first. Before you even decide to start your photography business, it is important to know what you want to do. When you're clear on what your goals are, it's easier to communicate with those people who you want to work with. You can take thousand of pictures about anything but if you're working with the wrong people, it won't take your business far. Remember that being in the business, you also have to make money in your photography business.
Learn ​​how to start a professional photography business with Sam Katz.

Episode 58
Challenges along the way
The hardest part of doing a photography business is to find the people, not just a client but the right client for you. An example is elopement weddings. Since in most areas in Norway, elopements aren't that popular so one way to popularize it is to talk about it. The more people talk about it, the more people will become aware of it. For elopement photographers, this awareness decreases the burden of finding the right clients.
It's also important to note that most photographers feel the imposter syndrome. That feeling of not being good enough, or that fear that people will figure out you're not for real. It's more of a mental challenge to most photographers but the solution is always to be ready and dare to do it.
Learn how to deal with Imposter Syndrome.

Episode 25
Because if not, you'll always get back to having that imposter syndrome. It won't get you anywhere. Another way out is to look at photographers that you admire, and accept that everyone is unique.
The way you see through your eyes and imagination as a photographer is what makes you unique. Learn to focus on that.
Focus on the good things
There may be so many challenges, but there's always a good thing to focus your energy on:
Learn how to talk to people in different ways. It will depend on the type of client you're working with. Of course, you will talk differently when it's a commercial client than you would to a couple who will get married. It's also how you manage your client's expectations.
Focus on the adventure and experience your photography services can offer. As an elopement photographer, an example will be finding spontaneous spots that are good for the couple. Surely, it will provide them with a different experience.
Have a support system. In times of doubt, or especially having imposter syndrome, photographers need to receive support from their family, friends, and colleagues.
Focus on who you want to work with. That's identifying who your dream client is and looking for ways how to reach them to work with you.
Learn how to improve your website and book more clients.

Episode 61
The biggest dare is to step up your pricing game
If you're just starting in the photography business, you may have experienced months of not getting booked. This is normal for many photographers who have just started. You're building your business and it's important to allow yourself to invest in that fully with your time and your energy.
Deciding on prices is an important move in your photography business. The most common mistake is to base your price on others. Why? Because you don't know anything about them, or how they even figured out their prices. It's a bad idea to do things that way. 
So how do you set up your price? Here are some aspects to factor in:
Pay yourself first. Learn how much you need for bills, pension, and insurance, and how much you want to get paid as a photographer.
List all your business expenses, like taxes and rent. Know how much you'll be needing if you upgrade your equipment in 3 or 5 years. 
Remember that you're not just getting paid for the shooting time itself, you're also doing other business things. Like e-mailing or updating your website. You also need to get paid for those hours you're working when you're not holding your camera lens.
Learn what happens when you compare your prices with others.

Episode 47
And when you have worked out these things, the next step is to identify your work capacity. How many shoots can you do in a week, month, or year? Once you've figured that out, you will have a rough estimate of how much you should be charging on average. And once you know that average, then you can start building your packages up around that number. Always remember that when you build your package, it's always for your dream client. 
When you have set your prices, it's easier for you to stand your ground whenever someone says you're charging too much. You are allowed to charge this much because you're good enough to get booked for your services. And you'll know that that's how much you need to charge to make a living.
You just have to be clear on your branding. Your client needs to know that if they're paying this much, they're getting a wonderful experience from you. They're getting memories. Or whatever else your dream client is looking for from you.
What Evelyn wants you to know
We all have fear of not being and doing enough. About all others being better than us. But, do not let that stop you.
Do it. And if you're scared of failing… do it anyway.
Connect with Evelyn
4 reasons to consider Elopement Photography
Want more?
Learn more about the Sustainable Photography Program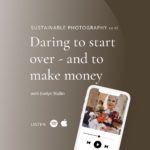 This podcast is all about education and inspiration for photographers. A sustainable business is profitable and lasting. Instead of short-term wins you want to make sure you're doing things that matter. Both to yourself, and to create the business you want. The goal of this podcast is that it will help you build and structure your business around your life, instead of the other way around.