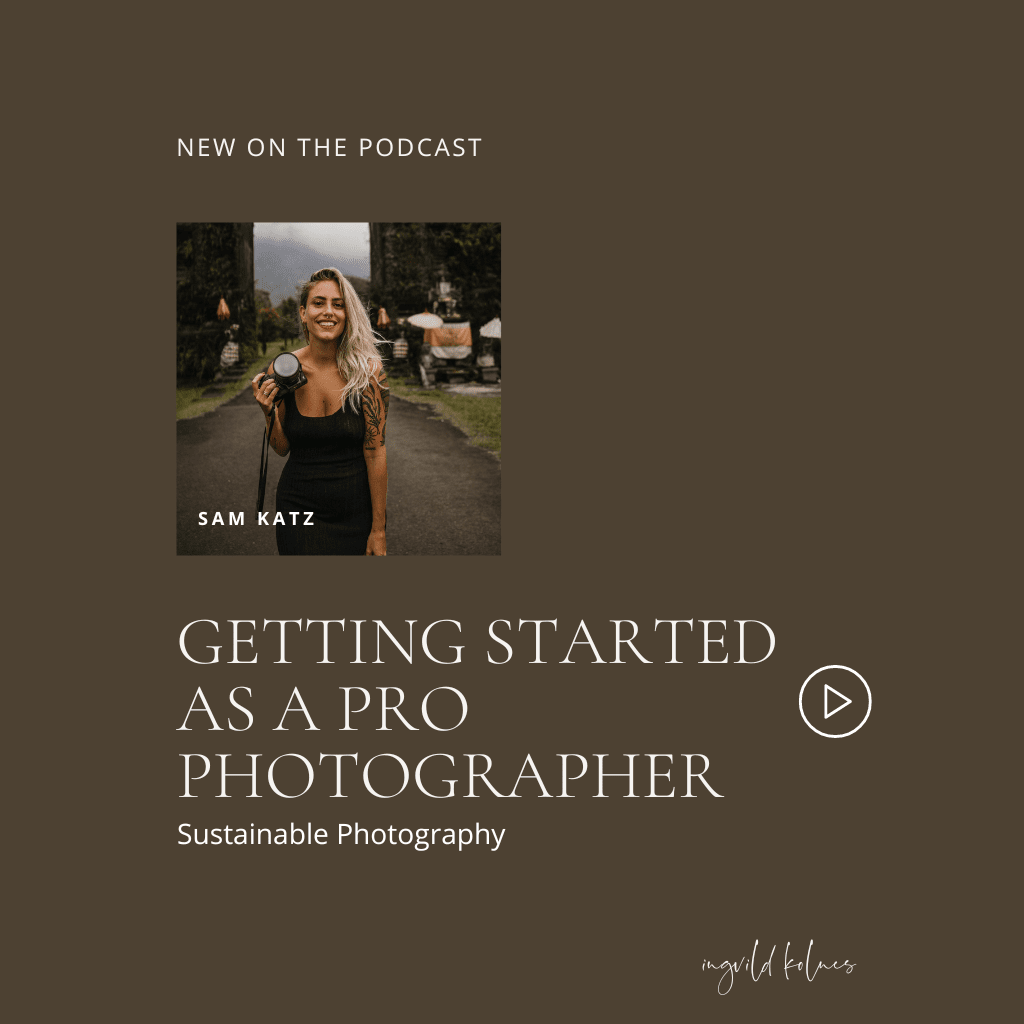 Sam has a passion for teaching, and truly believes in the power of community, because any industry is stronger as a whole when working together! Having taught photography in 6 different countries to over 100 students around the world, she now leads online programs to support photographers in their business, marketing, and sales strategies.
Having a photography business is about balancing being creative and doing business. Finding that balance is important to have a sustainable business.
What makes a business sustainable?
Mindset plays an important role in making your business sustainable. A positive abundant mindset lets you see opportunities. Surrounding yourself with people who have sustainable businesses also helps. These people are the best source of information and you'll witness what's possible.
When you have an abundance mindset anything becomes possible. Create content, get inspired, and create the lifestyle you want. Living the lifestyle that you want without the need to justify it to anyone.
You also have to make sure your business is making money. Your photography business is worth the price you charge because your clients are willing to pay for the service and total experience.
When you believe your worth of getting booked is beyond the hours behind the camera, your skillset, and the portfolio that people hire you for, it's the biggest element in staying sustainable. Just continue loving what you do, believe in yourself, and keep showing up where you need to be.
Know more about abundance mindset with Aislinn Eileen on podcast episode 50.

Episode 50
When No's are absolutely normal
Saying "no" is completely normal, especially when your business, brand, and your peace of mind are at stake. Don't be afraid to say "no" or even hear it from your clients. You might think that you're not enough but that's not the case. But you might not be a match. You just have to keep looking for those "yes" answers from the right clients.
You may have lost a client but think of it as an opportunity to meet another one. Or even getting booked by a dream client. There will always be work available because right now, there are so many brands and people on the planet that want and need photos. It's a visual world where opportunity is everywhere.
Learn how to build your confidence before you quit on podcast episode 49.

Episode 49
How to start a photography business?
People might use their iPhones and be able to take photos but don't let this demotivate you because you, as a skilled photographer, have a lot to offer. It's not just your skills but your ability to tell a story or show emotion.
Since you're already a skilled photographer, the first step is to learn the business side of it. Falling in love with photography is not enough to put food on the table or pay your bills. You have to earn and make a living out of this.
Here are some important things you need to know:
Know the basic business processes
How to negotiate with clients
Doing contracts
Customer Relationship Management (CRM)
The value of your prices
Know your niche and be good at it
It's not enough that you create astounding photos. You also have to connect with your clients and promote your business. You need to get an understanding of the business aside from the creative because you just can't run a photography business just by taking great photos. Unfortunately.
Listen to Q&A on your photography business on podcast episode 45.

Episode 45
Choose your niche
An important thing when you start a business is to decide on your niche. Choose one that you really want to pursue. This will set you apart from most photographers out there.
Getting the wrong clients might hurt your business because both of you are just wasting time. Time spent with the wrong clients means you are passing on the opportunity of working with the right clients.
Once you create the work you wanted to be hired for, you'll end up being hired for that work.
Learn why you should find your photography niche on podcast episode 21.

Episode 21
Avoiding mistakes when starting your photography business
Mistakes cannot be avoided and finding the balance between taking chances and playing it safe is quite tricky. It might seem scary at first but as you go along and learn from your mistakes, you'll get wiser when handling your photography business.
One of the biggest mistakes that you have to avoid is losing yourself and your brand in the process of doing business. Don't take jobs that make you unhappy. These clients and payments may feel safe and secure but it's going to hurt your business in the long run.
Another one is not giving yourself the chance to try. There are a lot of opportunities out there for you. Your dream clients are just waiting for you to be found.
Also avoid working with clients who try to pay you less. Cheap clients will always behave like cheap clients and if you continue to accept them, you'll be having a hard time getting out of that routine.
Create the work you want to be hired for and live the lifestyle that you want. Find that balance and your business will be there for a long time.
A few more tips
Always look back on what went wrong and adjust
Know the value of your brand and stick to your prices
Focus on connecting to the right clients
Always prepare a contract before diving in to do shoots
Prepare for the worst like bringing extra batteries, a spare camera, etc.
Join a mentorship program or coaching session
Connect with photographer communities and expand your network
What Sam wants you to know
Having a photography business is knowing photography, sure, but most importantly understanding business. You must focus on your own path and create a lifestyle that suits you. Everyone can make it as a photographer as long as there is a goal and determination your job should work for you.
Connect with Sam
Want more?
Learn more about the Sustainable Photography Program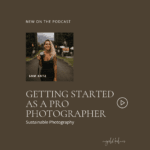 This podcast is all about education and inspiration for photographers. A sustainable business is profitable and lasting. Instead of short-term wins you want to make sure you're doing things that matter. Both to yourself, and to create the business you want. The goal of this podcast is that it will help you build and structure your business around your life, instead of the other way around.