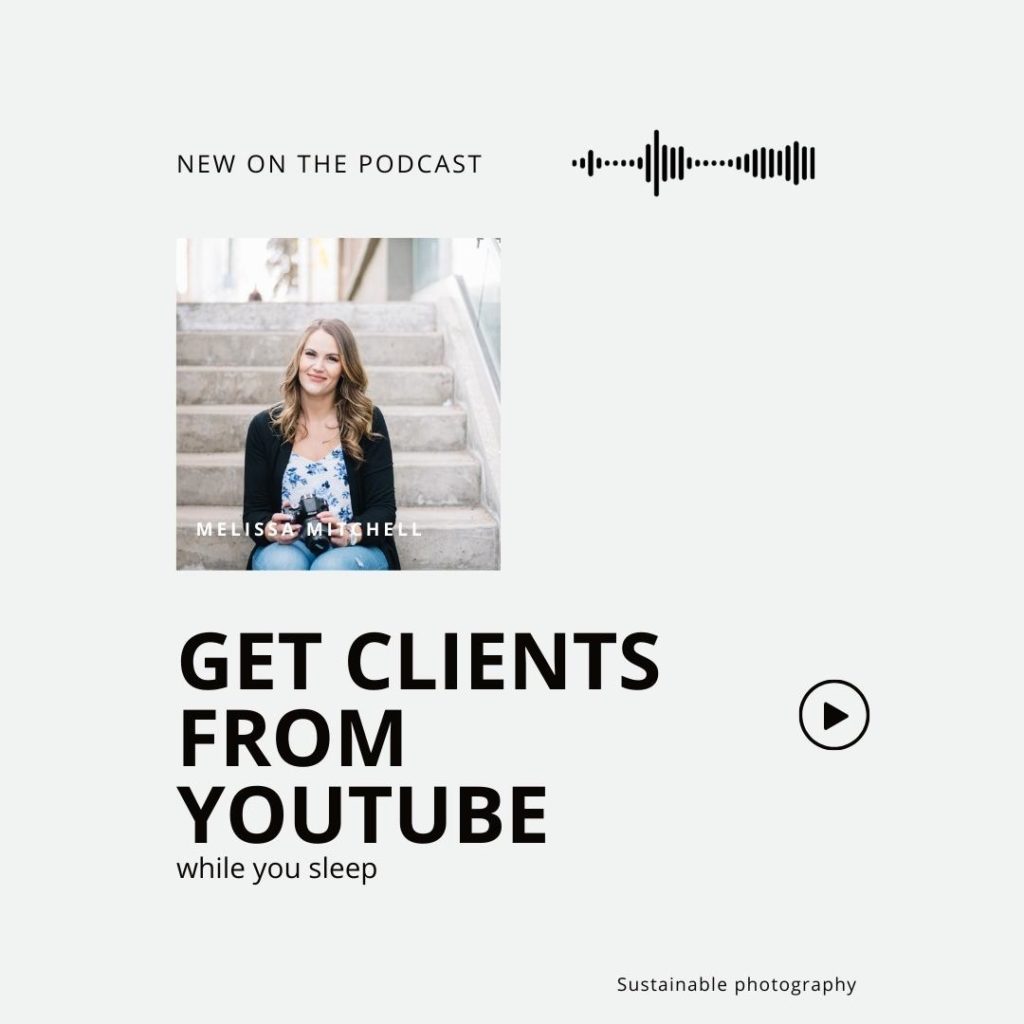 Melissa Mitchell specializes in helping online entrepreneurs and coaches build organic lead-generation machines with YouTube. She offers a variety of video services including helping you produce 6 months of specifically written, filmed, and targeted videos that will bring you leads on autopilot (Yep! Even when you're sleeping).
The most popular video-sharing platform is Youtube. It's also a search engine for videos on any topic you can think of which makes it a great place for photographers to promote their brands and services. Learn how to make the most out of YouTube in our podcast episode with Melissa Mitchell.
What makes a business sustainable?
A sustainable business is something you can rely on and not something you try to reinvent every single time. It's when your business is simple, easy to execute, scale, and repeat.
Many photographers chase algorithms and are always trying to find new strategies. It's a never-ending process of reinventing. It takes a lot of your time and that's not sustainable. You should stick to your brand and focus on generating leads on autopilot. Even if your content is simple, it can also be repurposed. It may seem repetitive but it makes your business more sustainable. So you save time and still get leads that will eventually get you booked.
The power of Youtube
When people have problems, they search for the answers on YouTube. It can be a simple question like "how to prepare for a photoshoot?". You'll find lots of videos on that. So how does the magic of YouTube comes in? Whenever a video is created around those search terms, your videos are going to start showing up for those search terms. Your videos will be found organically and it's going to work like that over and over again.
Since Google owns YouTube, your YouTube videos can also start showing up in Google searches.
Photography is a great niche for YouTube. The power of YouTube is that it opens up a lot of other money and revenue sources for photographers. Creating videos can lead to lead generation plus it can give you another source of income.
Another thing is doing affiliate marketing or partnerships. As a photographer, you can be affiliated with photo editing softwares, camera gears, and many more. That's another source of income for you.
Here are other things you can do:
Sell your presets or templates
Offer answers to frequently asked questions (FAQs) like how to use photos, how to get ready for shoots, how to plan your wedding day, what colors go together etc.
Suggest things like where the best photography locations are in your area to show up for geographical search terms as well
Just write down all the things or topics that you can think of and you'll have endless content to create and post. That's how you make the most out of YouTube to help your photography business.
Lead generation and repurposing content
Since Youtube is a search engine, when people search for topics related to your videos, it automatically directs them to your content.
This is why it's important that your videos can be found easily. Aside from YouTube, you can also add your videos to Instagram and Facebook.
Learn Instagram tips for photographers with Kristen Sturdevant.

Episode 40
Using the YouTube videos that you have as a basis, you can create shorter videos or snippets from those. What's good about repurposing content is that from a long YouTube video, you can create smaller pieces of content. And these snippets can be posted on your other social media platforms. Whether it's YouTube, Instagram, or Facebook, your potential clients can easily find your content.
When you think of creating one video, remember how many pieces of that content can be snipped into smaller bits of content. When you give three tips in your video, you can snip it down to 3 short videos for Instagram stories or reels.
How to start repurposing content
Here are some tips that you can use:
Start generating some ideas
Record and practice
Use your professional cameras
Warm up to your audience and get them to know you personally
Use every platform you can to share your repurposed content
Create an email list for sending out information
Put up a system in place and follow it through
Learn how to improve your photography workflow with Charlotte Isaac.

Episode 36
Mistakes to avoid in creating content and repurposing it
While creating videos and repurposing content is really fun, here are some mistakes to avoid:
Being too scared to make a mistake so you avoid starting
Being too perfect, you should let imperfect videos be seen by your audience
Not creating a plan or researching what your target audience is looking for
And the biggest mistake to avoid is when you create multiple lead magnets. It is best to focus on one solid strategy instead of multiple lead magnets or freebies.
Learn from my mistakes in photography in podcast episode 43.

Episode 43
Melissa wants you to know
The cool thing about YouTube is that it can really be plugged into whatever marketing system you have happening at the moment. You don't need to reinvent the wheel. It really is something you can just plug in. YouTube doesn't have to take tons of time and it can be a great source of organic leads! You just need to enjoy the process.
Connect with Melissa
Want more?
Learn more about the Sustainable Photography Program
Join the minicourse that starts October 31st!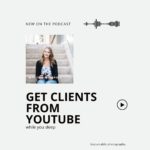 This podcast is all about education and inspiration for photographers. A sustainable business is profitable and lasting. Instead of short-term wins you want to make sure you're doing things that matter. Both to yourself, and to create the business you want. The goal of this podcast is that it will help you build and structure your business around your life, instead of the other way around.