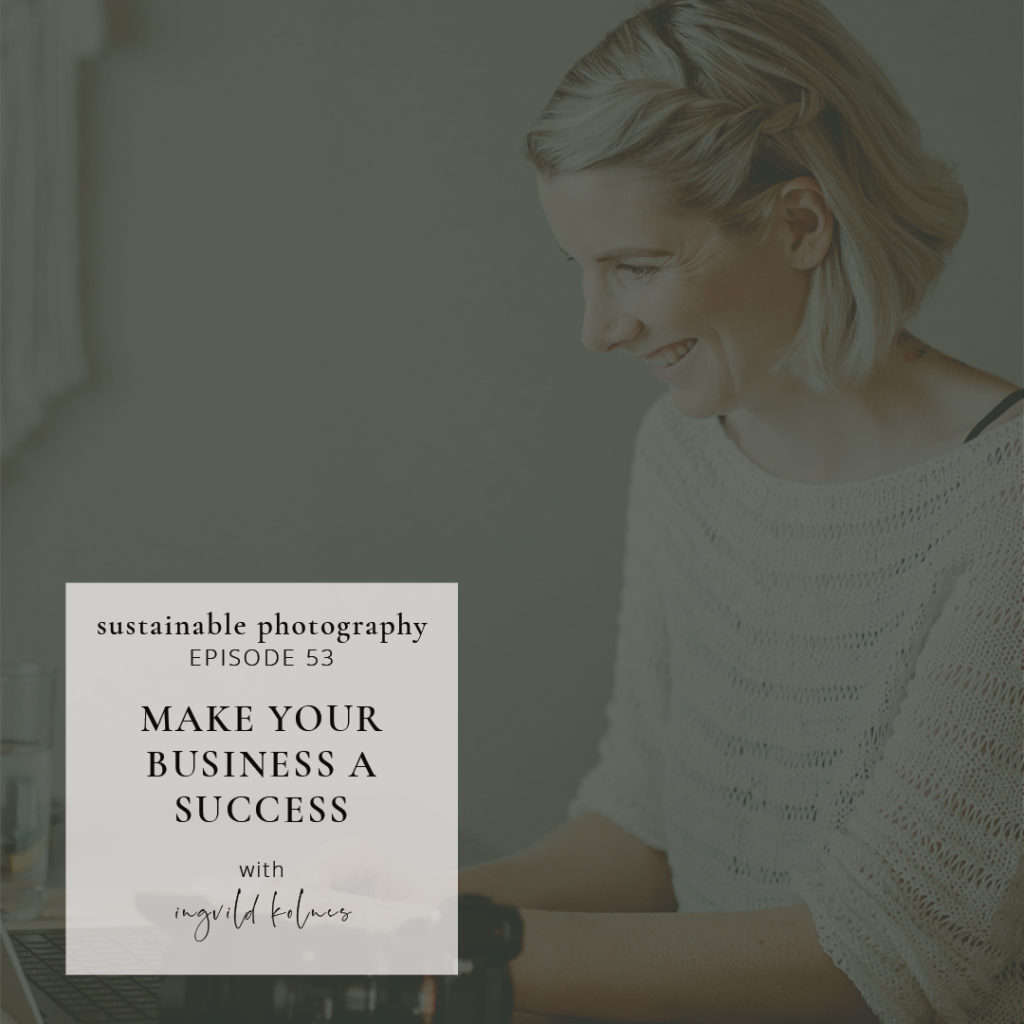 All the big pieces of your photography business matter. Even if just one piece is off, it can hurt you or stop you from reaching your business' potential.
In this podcast episode, we'll go through each of the different pieces.
1. Your business starts with you
If your business isn't connected to who you are or what's important to you it's going to be really hard for you to thrive.
The problem starts when we tend to think that there is a right way of doing things. That there are specific rules we need to follow. Sometimes we wonder why everyone else has got them figured out and we need to follow their example. But we're forgetting about one very important thing. Ourselves.YOU are the center of your business. You have to make sure that your business fits into your life and not the other way around. That way, your business is sustainable in the long run.
If your business isn't connected to who you are or what's important to you it's going to be really hard for you to thrive. It can definitely hurt your business.
Learn how to let connection drive your creative business with Kristin Sweeting in our podcast episode.

Episode 20
2. Get your systems in order
You need to make sure that your productivity and systems are in order. The problem starts when you do the same things over and over. You waste a lot of time working behind the scenes, instead of doing what you're passionate about.
Most photographers proudly wear all the hats in their business. From being the marketing director, communications manager, accounting, and down to editing. Why is that? What other professional group can you think of that does everything from building their own website to sending out invoices and photographing clients?
We're often jealous of others who claim to shoot a new wedding every weekend. Or those whose calendar is fully booked with newborn shoots. In a way, that kind of "busyness" seems like something to be admired. Having systems in place will save you so much time and frustration. And free up time for more dream shoots and more time with your family.
Learn to Improve your photography workflow and save time with Charlotte Isaac in podcast episode.

Episode 36
3. Make your goals and plans work 
Where do you envision yourself 5, 10, or 15 years from now? If you don't know what you want, then you won't know what choices you should make. All the more you're unaware of what is truly right for you. You won't have a plan to follow or goals to work towards.
Try to identify what you want. Your goal is where you want to end up and the plan is how you'll get there. Remember that your plan has to work. And how do you make that happen? Stick and be consistent in following your plan.
Learn how to set goals in our podcast episode.

Episode 13
4. Figure out who you want to work with
When you're not clear on who you want to work with, you might end up with clients who don't appreciate you. Who wants things that you don't really do. Or who end up giving you referrals so you do even MORE of those things you don't want to do. Taking your business completely in the wrong direction.
When you know who you most want to work with, it's easier to talk directly to that person. Because they'll feel like you're speaking to them about the things they need to hear, they'll stop and pay attention. That makes everything you put out on social media and your website so much more effective. You won't need to compete with everyone. You just need to make it clear why you're the right fit for your people. It's all connected: Working with the right people want to means you'll enjoy your work more. You can charge more because you're specialized and get booked for being YOU. Finally, you'll save a lot of time. Since you have a clear message you're no longer competing with all the other photographers out there. Win-win-win. Right?
Learn how to create that dream client profile in podcast episode.

Episode 27.
5. Profitable pricing
If your prices are off, you might not be making as much money as you think you are or want to make. You might not have offers that your dream clients are interested in.
Being self-employed means that you have to save for your pension. Make sure you have insurance and that all overhead costs and expenses are covered. It's not enough to just make ends meet on a month-to-month basis. If you find yourself working long hours, and you're still not getting to live the life you want, it's time to make sure your prices are profitable. Actually, you probably want to check that anyway, because you want to make sure you're all set for long-term sustainability. Not just here and now.
Also, the way you build your offer is also a big deal. Just changing your words can make all the difference.
Learn about the value of high prices in our podcast episode.

Episode 19
6. Build your branding on point
Without a clear brand, your potential clients won't know what you're all about. So how would they know if you're the right photographer for them?
Whether you know it or not, you have a brand. And you want to make sure you're being intentional with what you're putting out into the world. Your brand has to match your pricing and money goals, how much you want to work, and what you want to offer. It's easy to think of your brand as your logo, but actually, your brand is how your business looks and feels. Your logo, the words you use, the message you have, your pricing, your offer, the colors and photos you use. Basically the look, tone, and feel. It has to be consistent. That's what'll set you apart and show that you're professional.
Learn how to stand out as a photographer with Leslie Rodriguez in our podcast episode.

Episode 26
7. Focus on marketing
You might think of marketing as the most important thing, but without all those other pieces, there is no point in marketing. Marketing is important though because If you're not reaching the right people or enough of the right people, you'll struggle to bring in enough clients.
You can be the best wedding photographer in the whole world and not book enough if you're not visible and getting found – by the right people. After doing the groundwork where you know how many shoots you want to do, how to work efficiently and what your prices should be, and how your business should look and feel like it's time to put your beautiful photos out into the world.
There are so many ways to get visible, so make sure you do what's right for you.
Learn how to book photography clients through sales calls with Carissa Woo in our podcast episode.

Episode 30
Key takeaways
You need all the steps to come together to build a sustainable business. No matter how good you are, you always need to check these parts from time to time. Continue to improve and grow while sticking to your brand and values.
You should get on the waitlist for the Sustainable Photography Program. It opens up again this fall and I know you would love it! Before that starts up, you're invited to join the minicourse that starts on October 31st, where we're going to work towards creating your best year yet!
Want more?
Learn more about the Sustainable Photography Program
Sign up for the mini-course 'Create your best year, yet'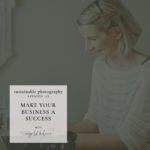 This podcast is all about education and inspiration for photographers. A sustainable business is profitable and lasting. Instead of short-term wins you want to make sure you're doing things that matter. Both to yourself, and to create the business you want. The goal of this podcast is that it will help you build and structure your business around your life, instead of the other way around.