44. Use videos to boost your photography business with Stephanie Kase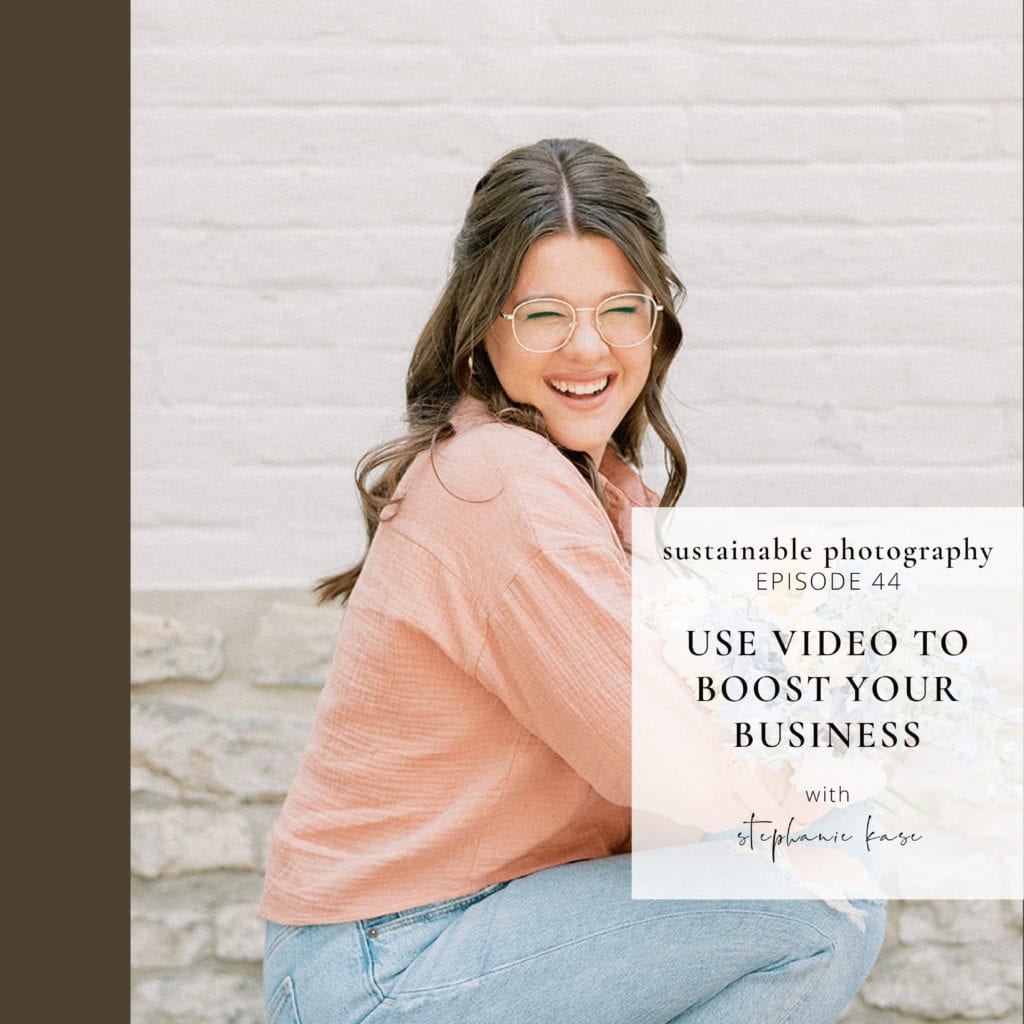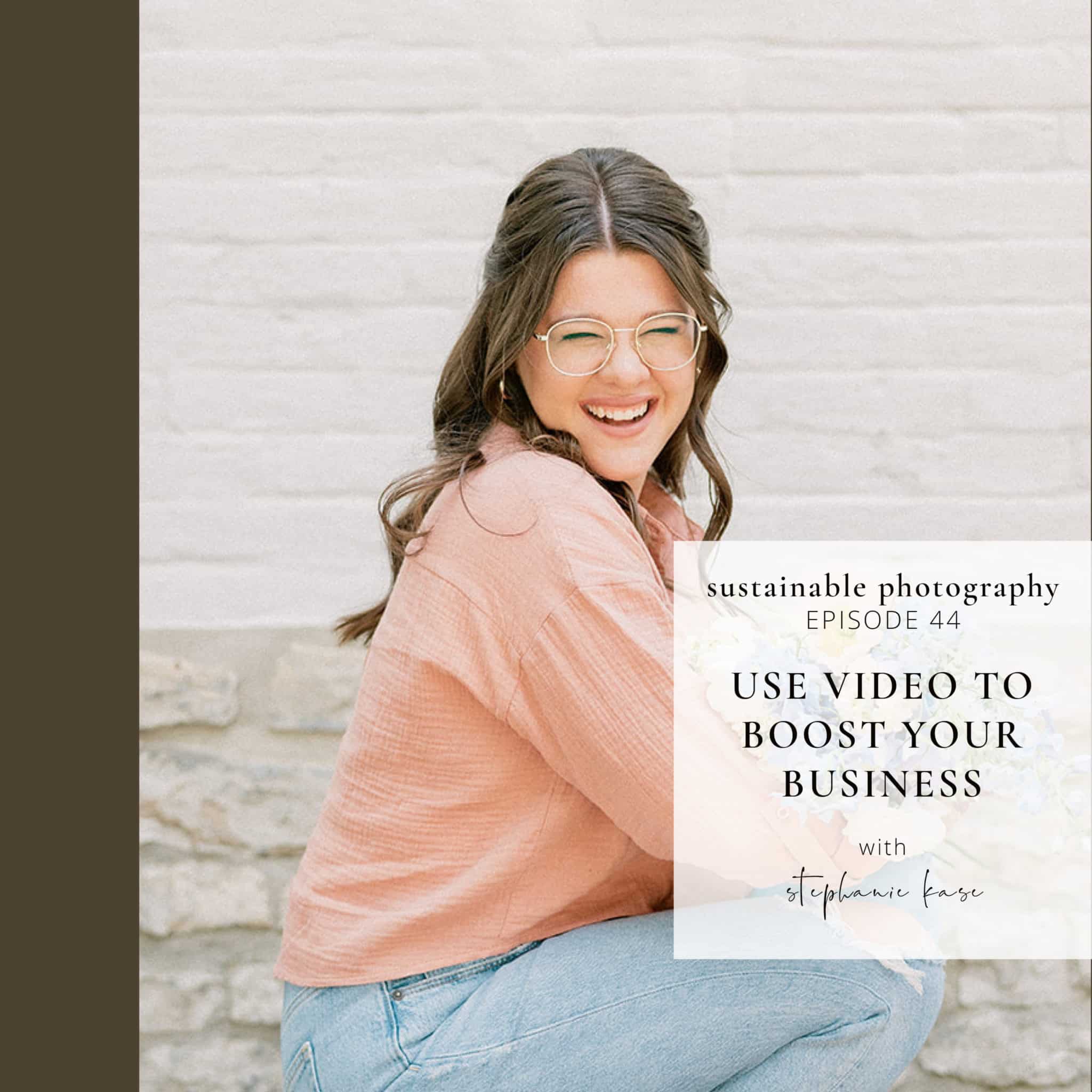 Stephanie Kase is a business educator and content creator. She helps brands confidently create content so they can show up consistently, maximize their reach, and grow online. Besides running her brand, you can often find her cuddling her two Sheepadoodles, hanging out with her husband and twin girls, and drinking a chai latte.
A photo may paint a thousand words, but a video can be worth a million. Video marketing like reels on Instagram is becoming popular in helping photographers reach more clients. Videos can really boost your photography business.
Aside from posting photos, videos are becoming a popular way of introducing your brand. A lot of social media platforms use videos to share their thoughts, products, and services. Using videos to promote your photography business will make your brand stand out. Engagement between you and your clients improves when you use video marketing.
What makes the photography business sustainable?
There are two things that can make your photography business sustainable. The first is having many ways to get inquiries from clients. A good marketing plan on Google and SEO will make a whole lot of difference. Social media platforms like Instagram can help you market your brand.
The second is to outsource. Work with someone that can do the tasks that may lead you to burnout. An accountant, for example, will do wonders for your business. It takes your mind off the accounting business. It's not all on you.
Learn more about outsourcing in our podcast episode with Jan Madigan.

Episode 24
Growing your brand through video marketing
Making videos create a different level of marketing for your brand. The engagement between your video and the client has more impact than a photo. Note that all videos can boost your photography business.
A video of you introducing your brand and services will get more media mileage. It also helps you build connections with your clients even before meeting them. But if you don't dare to record yourself straight away, you can still be behind the lens. You can take videos of your services and you can just talk. You can narrate what happens in a day in your life as a photographer.
Reels or short videos are popular today on Instagram, Tiktok, YouTube, and Facebook. That's where you can start. Here are some tips to make the most out of video marketing:
Focus on your personality and brand
Plan the content of your videos. It can be about your service, a day in your business, or tips. 
Practice creating or recording videos. You can start with short ones. 
There are many ways to shoot videos. Either you're on it or behind the lens. 
You can try joining some Instagram trends if it connects to your brand.
Take videos anywhere. You can shoot a behind-the-scenes video of you photographing for example.
Post your videos on social media platforms for free marketing.
Invest in creating good videos as this can get you inquiries. 
Learn more about Instagram in our podcast episode with Kristen Sturdevant.

Episode 40
Remember that if you're not comfortable, you don't have to go live yet. It can be uncomfortable in the beginning. Take baby steps by doing recorded videos. The greatest thing about recorded videos is you can always edit them out and hit record when you're ready. You can also stop recording at any point.
One tricky part of posting videos or reels on social media platforms is its algorithms. It will help your brand if you become consistent in posting videos. A good marketing plan comes a long way.
Gain visibility using videos to promote your business
Most of the time, videos are all about aesthetics. But how do you make one? Any location can result in a good video, it's all about angles and tricks. If you have the budget for it, you can rent a studio. But you can also shoot outside when the lighting is good.
You already have a good eye as a photographer. Find somewhere, a corner or a nook where you can shoot. Even a blank wall will do. Just remember it must resonate with your brand. You can be as creative as you want.
The best video marketing is when your brand stands out. When this happens, you get more inquiries and you get booked. But it's not just about getting clients. It's more on getting the right clients for you.
Learn how to stand out as a photographer in our podcast episode with Leslie Rodriguez.

Episode 26
You can also create a channel on YouTube and post your videos for wedding or celebration videos. It's the best platform for this. It can also become another stream of income for your brand.
Avoiding mistakes in using videos to boost your photography business
When you use reels on Instagram, it's meant to be shown to those who do not follow you. This means that your videos can get through to potential clients. It's one of the best ways to get new clients. If you're focused on those who follow you, you can post it on your Instagram stories.
But yes, mistakes cannot be avoided, just be mindful of the following:
When you don't start, you won't reach anything.
Getting uncomfortable with what you're doing.
Stopping because it's imperfect. There's always room for improvement.
Practice shooting videos! It's the only way to improve your content and skills.
Stephanie wants you to know
Start creating reels or short videos to promote you and your brand. Be it putting your face on Instagram stories or sitting down to create a YouTube video, go for it! Videos can really boost your photography business. Whatever that makes you comfortable, do it. And allow yourself to sometimes feel uncomfortable too. Be it behind the lens or being in front of the camera. Make it a habit, practice, and improve making videos.
Just start! Even posting short-form videos once per week can make a huge difference!
Connect with Stephanie
Get 10 free Instagram Reel Ideas here!
Want more?
Learn more about the Sustainable Photography Program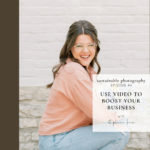 This podcast is all about education and inspiration for photographers. A sustainable business is profitable and lasting. Instead of short-term wins you want to make sure you're doing things that matter. Both to yourself, and to create the business you want. The goal of this podcast is that it will help you build and structure your business around your life, instead of the other way around.