28. Empowering Women through Boudoir Photography with Ine Papatzacos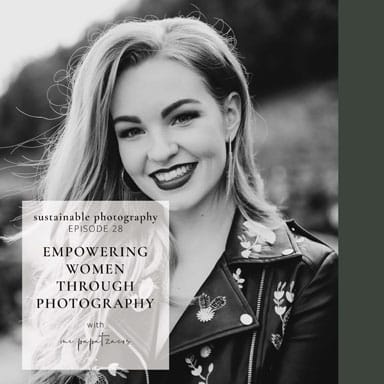 Ine is 28, married to her high-school sweetheart, and has two adorable little dogs. She's been working as a professional photographer for 10 years. After shooting weddings only for many years, she found out how much she loves boudoir photography. now she runs a full-time boudoir studio. Ines's mission is to empower women through photography. And she wants to give women a safe space to embrace their bodies and express their sensuality.
What makes a business sustainable?
A sustainable business allows you to keep providing an outstanding client experience. At the same time, earning income and having time off to recharge. It is proving the best experience for your clients. But also having the time to take care of yourself and have financial security.
You may realize that because you own your business, you have to work 24/7. Because most photographers like you work non-stop. Sometimes, you want to work as hard as the other photographers. That you have to keep up daily. When you don't work like them, you feel like you're doing something wrong.
That shouldn't be the case. Remember that having time off for rest and other social activities is important. It may take you many years to learn how to have a healthy work-life balance but it is worth the wait.
Want to know more about why you should pick a photography niche?

Episode 21
Setting boundaries by saying "no"
It might take you time to set boundaries. It may seem normal to you but you don't need to answer that email on a Saturday night at 11 p.m. Be a bit nicer to yourself, you've worked so hard the past week. We give up so much by running our business to have that financial stability and security. You have worked more than enough and the least that you can do for yourself is to rest.
That's why saying "no" is one of the best things you can do in your business. As a photographer, you must also set boundaries. It may be the hardest thing for you to do right now, but once you learn it. You'll realize how empowering that will feel for you and your business.
Empower women through photography
Ine shares that it is a passion project of hers to empower women through photography and body positivity. A lot of women encounter issues with body shaming and having lost confidence in themselves. The experience of boudoir photography can allow women to discover their own beauty.
Some women try to alter their images through the use of photoshop and other software. They want to trim their waist, have bigger breasts, and other enhancements. That's why as a photographer, it's your role to make them feel confident in themselves. Women feel beautiful and sensual in their bodies when you appreciate them.
When you encourage them to love their bodies, women feel empowered. You'll instantly see the results when you take their shot. They'll see themselves in a new light. That is how you, as a photographer, can empower women through photography.
Promotion using Facebook
Facebook groups will help you establish a connection with your audience. This is also a good place for you to share your idealism. Ine's Facebook community of 3,000 women promotes body positivity and empowerment. Make your social media circle become a positive space. It's where your target clients can interact by sharing photos and ideas.
There are certain topics that they can relate to. It's even more special when people talk about advocacies and share their vulnerable side. A certain connection with others on a deeper level.
You may or may not meet them but having this special connection is undeniably good for your business. Having a platform where you can promote your values will also make you more visible to the market. There is an instant connection with your niche clients and a strong client base.
Idealism in your business
Sharing your values and your idealism is a way of also making your brand special. Your values as a photographer reflect your work. Sometimes, it may turn your clients away because your values don't connect with theirs. Remember that your values make your brand more special, it makes your work unique. In this way, you will be more satisfied with the way you run your business.
You have to keep on making your brand more visible through the right connections. There are many clients who can connect with you on some levels.
Make your ideals the foundation for your business. These ideals will make a unique experience for your clients. In the long run, you will attract clients, some will be even your dream clients. Check out episode 27 for more details on the dream client profile.
How to build trust and connection
Boudoir photography or any other photography business is more than pretty photos. It is important that there is trust and connection with your client. Make sure that you provide an ambiance where they can feel comfortable. Avoid being creepy because you might set the wrong note for your clients. Finding the balance is the key.
Here are some tips:
Make your brand visible and have more testimonials from clients
Be professional, boost your client's confidence
Practice ahead before your booked session
Create a safe space for your clients
Treat your clients with respect
Connect with your clients and niche market through social media platforms
There are also some important things that you need to consider:
Define your boundaries. Learn how to make yourself available for work and rest.
Set your prices. This should cover all the things that your business offers, not just your services. You must include the costs of rent, equipment, ambiance, refreshments, and others. Charging low prices to attract customers will not be able to save you from bankruptcy. By charging higher prices, you set your worth as a photographer.
Build a good portfolio. If you're starting with photography, you can practice with your friends or families. Have model call. Ask your clients whether you can use some of their photos for marketing. Always bank on the idea that you can have a lot of diversified photos from shooting three people.
It's important to stand out to get booked

Episode 11
On making the jump
Just because nobody has done it before, doesn't mean you can't. I was so terrified when I opened the studio because it would be the first of its kind in Norway, and I was afraid that no client would want what I had to offer. But I went for it, and my business is thriving and clients fly from all over the country to come to have their shoot with us.
Ine wants you to know
Remember to create a safe space for your clients to establish trust and connection. Reach out to your target market through social media. The best client experience is when trust is built through your brand's values.
Find Ine
Ine offers listeners 50 % off a boudoir experience in her studio!
Want more?
Learn more about the Sustainable Program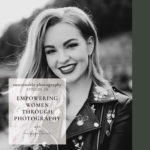 This podcast is all about education and inspiration for photographers. A sustainable business is profitable and lasting. Instead of short-term wins you want to make sure you're doing things that matter. Both to yourself, and to create the business you want. The goal of this podcast is that it will help you build and structure your business around your life, instead of the other way around.