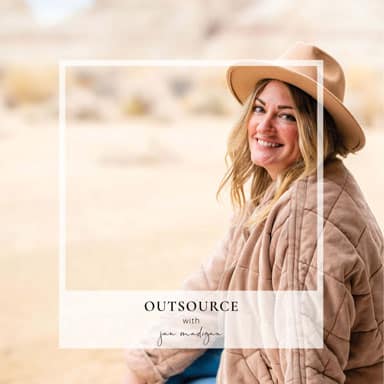 Jen is a lifestyle photographer and business owner with more than 12 years of experience in the creative entrepreneur world, with knowledge in a wide range of systems and programs. She loves helping creatives make their business work for them in a more effortless way. Jen's ability to see the most efficient path to the end result will help guide you toward automation, systems, and more freedom within your business and life.
Making business sustainable
Providing a good client experience makes businesses sustainable. The referrals via word of mouth can make your company thrive. Aside from this, you must ensure that you provide good service. And take good care of your clients. You'll realize the benefits when new clients come in because of referrals. Right pricing also plays a big part in having a sustainable business.
Making outsourcing a good idea for business photographers
Everyone outsources portions of their business except for creatives. These types of businesses start small or stemmed out from a hobby. But one person cannot do every job. You can't do all tasks and become good at everything. If you want your business to grow and become sustainable, outsourcing is the next step.
Can you afford to do outsource?
Some might say they cannot afford to outsource. Here's a list for you to consider before outsourcing:
Pricing. Look at what you're charging. Is it based on your expenses or are you charging a random number you came up with?
Identify the reason for outsourcing. Addressing your problem is the next step. If your business is struggling, it might be a good idea to hire a coach. Or someone to help you with marketing or sales. A virtual assistant may help you with administrative work.
This could also mean hiring someone to do a specific task. That one job you've been ignoring for days. It is not necessary to hire an online business manager right away. It will always depend on your needs.
If you are struggling with costs, you can hire an intern or college student. to help you. They can perform specific tasks or run errands for you. It is also important to get comfortable in delegating tasks.
How to outsource as a photographer?
To use Jen as an example, she looked at the things she procrastinated doing. She shared that it is editing. For her, it was an easy decision to outsource the editing. By hiring someone to edit, Jen saves a lot of time. More time to spend on other things that would make her business grow.
Outsourcing makes your life easier. It gives you more time to focus on important things. This takes things off of your plate. Make sure to include the costs of outsourcing in your pricing.
The process of outsourcing usually begins in an onboarding meeting. You probably want to discuss the cracks in your business and how someone can help.
Photographers and outsourcing problems
Delegating can be hard for photographers. Usually, you are a one-person team. It is just you, backed by yourself. This mentality makes delegation hard for you. Since you can do things faster, you often end up taking the time to train others. Not giving another person a chance to learn. Resistance and control are also factors. There's also this societal expectation of women working with other women. The facade of doing it all and looking great at the same time.
These kinds of problems might stop you from outsourcing. By not outsourcing, you alone will have to do every task in your business. This might affect your performance, business, and work-life balance.
Advice on outsourcing and team relationships
Everyone works differently. It is important to have a collaborative work environment. Here are some of Jen's advice:
Identify the direction you want
Make opinions matter in a healthy discussion
Bring ideas to the table
Be clear with your expectations and wants
Designate roles
Identify non-negotiables
Remember, that when the roles are not clear, it becomes a catch-all position. It is not a virtual assistant's job to get more clients. Also, if you don't have enough clients to support yourself, it's not yet the time to do outsourcing.
When do you outsource?
These are some of the wake-up calls for when it's time to outsource:
Your client is suffering because you're too busy. You struggle to deliver things on time. And there's no good communication. Remember, you can outsource client management.
You are stressed trying to do all the things. You can hire somebody to do some of the things for you.
Your family and social life is suffering. Or you miss out on big things because you overbooked yourself. Or you get sick from all the pressure. Then it's definitely time to hire someone to help you.
This does not mean one person will do everything though, so be clear on what you're looking for.
Steps in outsourcing for business photographers
Set a budget: you can get virtual assistants or online business managers on a wide range of service fees.
Start small: make a list of 5 things that you avoid completely. From this, you will have an idea of what type of service you will need.
Time to tire: you might know a person who can help you, or someone you know might be able to suggest someone. This has to be someone who you can trust your passwords and other important information.
Identifying package or working hours: is it a per-project or hourly basis? Short-term or retainer situation?
Outsourcing can do wonders for you and your photography business. It can help you focus on bigger things without the worry of other small tasks. Make your photography business sustainable by asking for help from others.
Jen wants you to know
Jen wants you to be excited about the idea of outsourcing and hopefully, it feels less intimidating after you've listened to this episode.
Find Jen
Streamline your creative business
Want more?
Learn more about the Sustainable Photography Program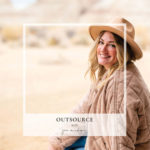 This podcast is all about education and inspiration for photographers. A sustainable business is profitable and lasting. Instead of short-term wins you want to make sure you're doing things that matter. Both to yourself, and to create the business you want. The goal of this podcast is that it will help you build and structure your business around your life, instead of the other way around.