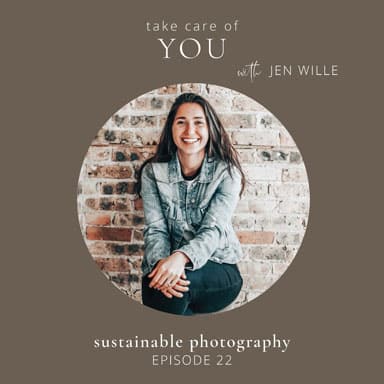 Jen Wille is a Certified Professional Life Coach, educator, and public speaker based in Chicago. She helps women grow their passion work from the inside out by taking care of themselves first. Before launching her coaching practice in 2014, she spent over a decade in education, where she taught elementary students prior to serving as an instructional coach and mentor to teachers. Jen leads workshops, runs coaching programs, and is the host of the podcast, First + Foremost. Jen's warm approach adds a unique flair to self-development. She acts as mentor, coach, and friend—all wrapped in one. By inspiring and holding you accountable for what you want in life without judgment, she leads you towards the life you envision. A few years ago I used to work with Jen, and now you get to meet her and hear her thoughts on self-care.
What's the difference between a life coach, a business coach, and a mentor?
Sometimes there isn't a difference between a life coach, a business coach, and a mentor. Jen says these three kinda weave in and out depending on who you're working with. She explains that a mentor is somebody who has the experience in what you're interested in. They also cheer you on while providing education and help you figure things out. A business coach will be particularly focused on how to do business. For example, how to make more money, expand your reach, and grow your market. And do all the other things that help your business flourish. In Jen's work as a self-care coach, she looks at the whole self. Like who you are, the systems you have in life, the way that you show up for yourself daily, and the way you show up for others. Life coaches have a professional background. This can help or guide you towards what you want to achieve. They may not have the personal experience in the path you're on. But they are trained professionals in achieving your goals.
Learn more about creating an experience for your client.

Episode 5
What does a sustainable business look like?
The word sustainable is powerful. And it could mean a lot of things, Jen says, operating in the long run, making money out of it, or having more clients. From her angle of self-care, sustainable business is something that feels good to you. It's looking at the parts of your business, in which area do you feel really aligned, well, and strong. How do these things feel in unison and how can you tend to them. If you're a business owner, you have to think of the different parts of your business and how these work together.
Self-care and soul nourishment
Jen shares that self-care is truly whatever feels nourishing to our soul. It can be a full spa day, bubble baths, or a manicure but it depends on where you're at and what's happening. Sometimes self-care can be waking up with intentions for the day. And spend the day journaling, having deep talks with the one you love or your therapist or life coach. Self-care is the thing that you need in any given moment that helps you feel loved and cared for.
You can also make your own self-care list. Write all the things that would make you feel loved or cared for. When you're running a business, it's important to have awareness of how to check back in with yourself. For example, when you are feeling off. You need to know how to connect with yourself before you start pouring into this creative work.
How can photographers take care of themselves?
The biggest thing you can do is to include self-care as part of your business plan. Jen illustrates the importance of self-care by imagining having cups in front of you. Each cup would represent an area of your life. Like your physical health, relationships, finances, travels, experiences, creativity, business. As you keep on labeling these cups, one cup must also hold your self-care.
There may be a lot of business owners who excel in making more money out of their crafts. And at the same time also struggle in their other cups, such as family or relationships. They're struggling with their other cups and probably would want more connection. They might also realize that their self-care cup is as important as all those other areas. Understanding this may be an eye-opener to everyone, especially photographers.
Being aware of checking your cups from time to time would make a good habit of assessing one's life. It makes you become truer to your real self.
Photographers can easily overwork themselves and just forget to take breaks. Jen highlights the importance of making space in your life. Photographers may have fully-booked calendars, especially on weekends. Because of that, it is also essential to have small breaks to do whatever things that you're interested in. Having that free time for yourself is so important. Jen thinks that the biggest thing to make a pattern of creating space is to look at what it is that you want for yourself. And that's where she can help people create that space for themselves. Business can be very energizing but it can also deplete you if self-care isn't involved. You can work all the time on your business and not have the time for self-care. While that can be energizing, that is not sustainable.
Balancing businesses and setting boundaries
Photographers are hard workers and Jen emphasizes the importance of having boundaries. It is so critical to have a work schedule but still have time for self-care. It's important to have some boundaries in a place. That way you mentally tell yourself, you cannot work way past that certain point. And you turn off work and you turn on something else.
She shares a technique called batching. You can set up office hours where you start and you finish. Then you have certain days for certain tasks in any given week. Like certain days off, days where you will see clients and you have days where you may be editing or doing admin work. You must identify and figure out your flow and you will find yourself less struggling once you get the hang of it.
How can photographers take better care of themselves? Jen explains that it may be uniquely different for every single person. Get a blank piece of paper and a pen. Ask yourself what are your needs and what is it you're craving? Don't put any limits and just keep on making that list, it can be as simple as drinking more water or getting more sleep. It's all about what your body is telling you. Listen to it.
Listen to the episode Money Confidence with Jillian Todd

Episode 2
On building a sustainable business
What is it that you're doing right now that you can see yourself in 10 years? Jen shares this question to make you understand more about how can you sustain your business. The answer will vary for every person. But you should always include self-care in your sustainable business plan.
Jen wants you to know
Taking care of business means taking care of you. Making self-care a part of how you function as a business owner is everything.
Find Jen
Want more?
Learn more about the Sustainable Program
Sign up for the in-person workshop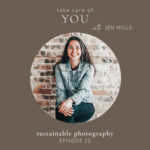 This podcast is all about education and inspiration for photographers. A sustainable business is profitable and lasting. Instead of short-term wins you want to make sure you're doing things that matter. Both to yourself, and to create the business you want. The goal of this podcast is that it will help you build and structure your business around your life, instead of the other way around.