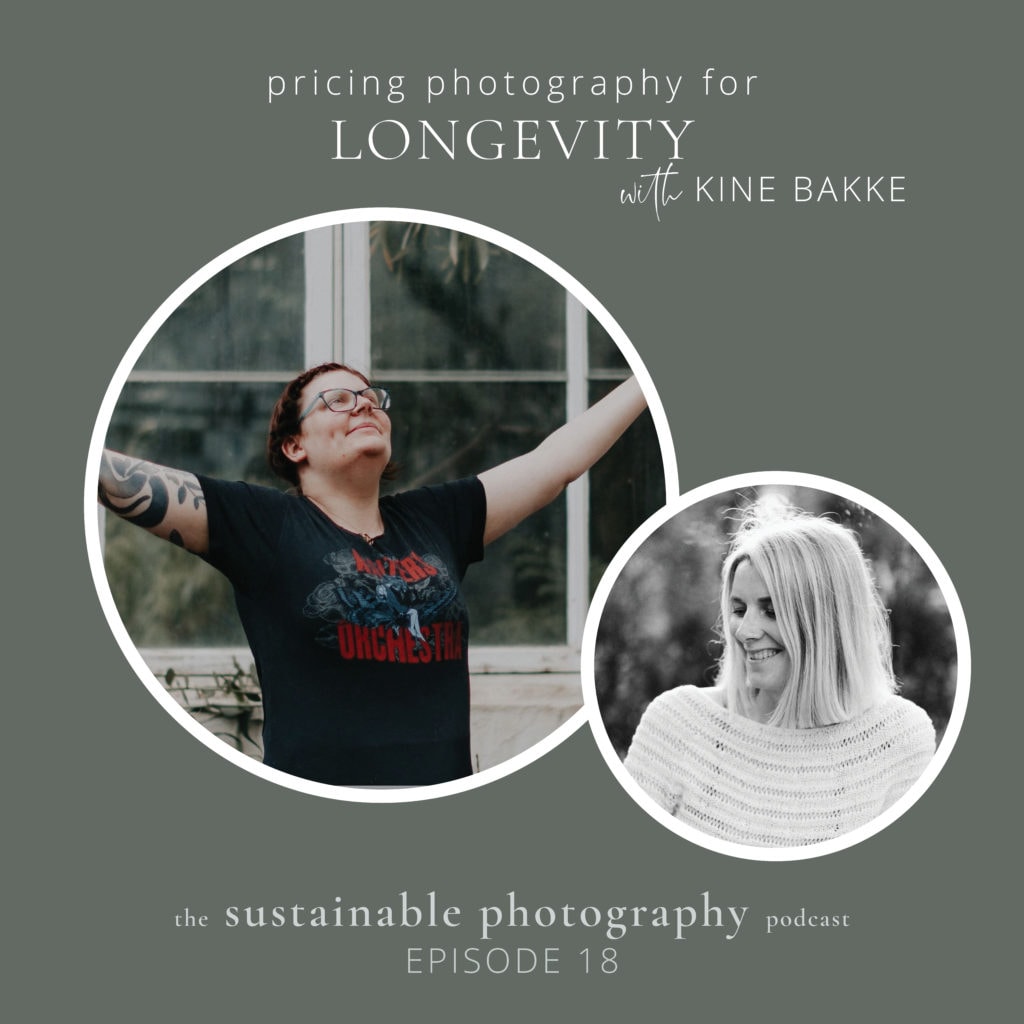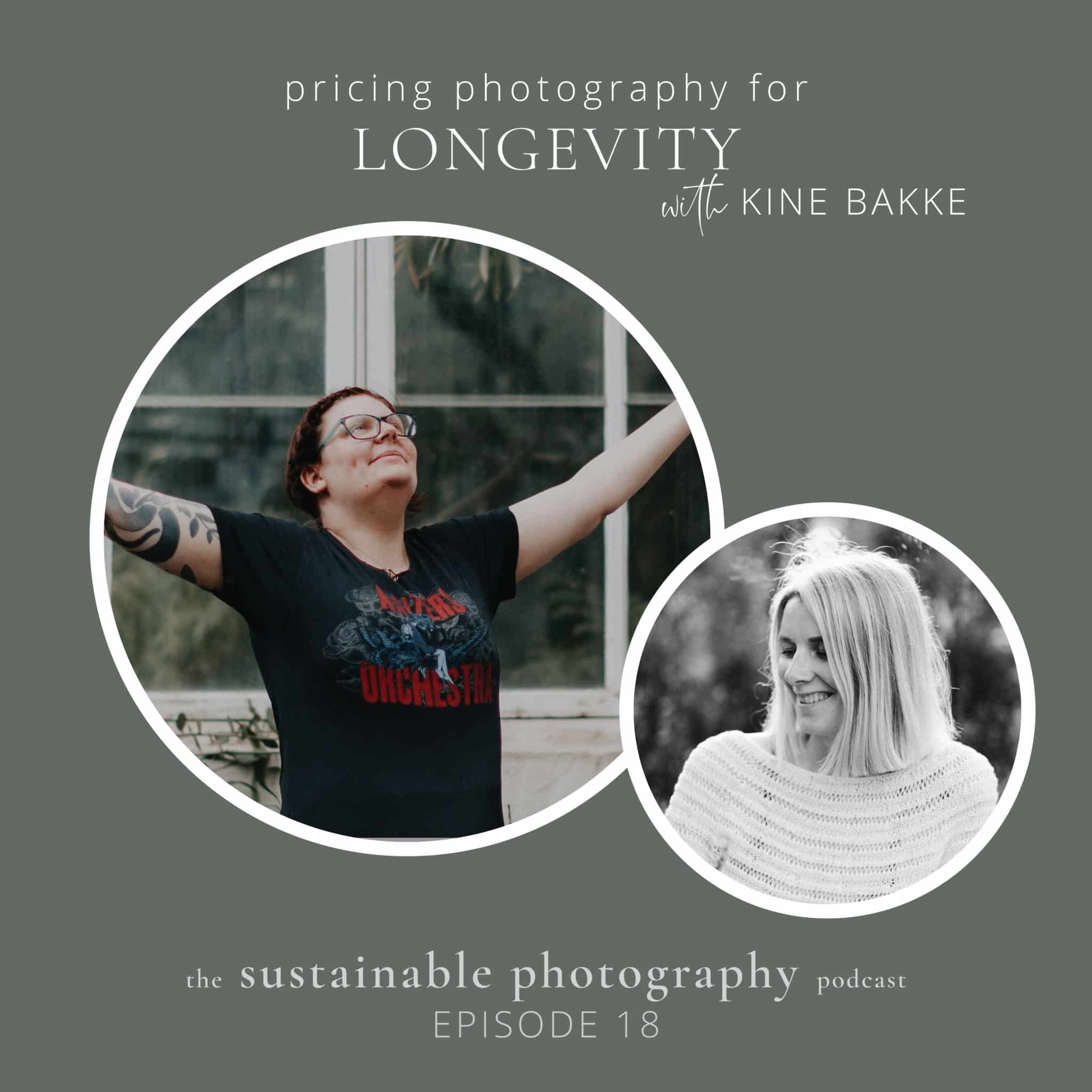 Kine was raised on a farm, and the life close to nature stuck with her. Nature has since become a profound part of her. The nature of people and how we go through life and business has become one of her greatest interests in life. Because she believes who you are and the business you run is both two pieces of the same puzzle.
She started her photography business journey 12 years ago. And she's done it all: kids, newborns, weddings, portraits. It took her a good while to find her style, a greater while to figure out what she want to photograph, and too long to figure out how to run a profitable business.
Now she mostly photographs for businesses and brands, does art projects, and the occasional wedding.
She helps other photographers lay the base of their future business. Maybe some of her experiences can help others grow faster and better than she did.
Check out the in-person workshop.
Make sure that your business can withstand the test of time.
Kine discusses which pricing strategies have worked for her, but especially which have not! How does a new photographer begin pricing for their work? You may think pricing your services low is a great way to attract a new client base. But you are attracting bargain hunters. Your photography business will suffer! Think about it – how much money do you need to live comfortably and keep your business alive? Kine helps us think intentionally about this.
There is no one right way to set up your photography business. You can do different types of photography with higher or lower pricing levels. You can choose varied business and marketing strategies. And every one of those can be right. But any approach is wrong when you make too little money. Think you can just work more hours? Kine weighs in on the dangers of high client volumes and burnout.
Pricing is complex. It has to do with you and your mindset. It has to do with your location. It has to do with your skills, but also your sales skills. In Kine's words: "You can be a pretty mediocre photographer and make a shit ton of money as long as you're a good salesperson." And that can be a good strategy for people that actually like sales.
She prefers a strong skillset. Paying for quality photos is a lot of money for many people, and she wants them to look at the pictures of special moments now and still love them in 30 years. You can try first setting prices that support a satisfying lifestyle. Second, try delivering high quality photos that attract your ideal clients.
Want more about money? Don't miss the episode with Jillian Todd about money mindset.

Episode 2
Kine thinks a sustainable business is one where you can look at your end goal, and you can see that you reached it. And then some. When you calculate your prices, you may forget some factors that are catching you by surprise. Maybe your financial advisor sent you an invoice at the end of the year, or your kid got sick. So you lost money because you didn't calculate for those things. Especially for women, understanding our relationship with money and how many expenses we have is vital:
"It's sad to say so but even in Norway, I still see women relying on their husbands or income. It's about self-value. It's about if you're a risk-taker or not. Most women are not risk-takers. That's why we save. We save our money in secure places instead of stocks. Look at your numbers and make sure you have saved up for retirement, and at least a 10% surplus."
To know if you are making enough money, Kine offers a helpful formula. You can factor income tax, employee tax, and vacation expenses off the top. Do you save for both a rainy day and emergency fund? Lastly, what are your bills? It is so important to ask how many hours you want to work. Being realistic about your hours also supports a long-lasting business.
Learn more about how you can have a sustainable business.

Episode 3
Keep the market healthy by valuing your work appropriately
Many starting photographers don't know any others in the business. Have you started pricing low because you feel too inexperienced? Sometimes it can feel like more experienced photographers will find you prideful. This isn't true! Instead of judging you for too high prices, they probably thought "You're ruining the freaking market!"
When you value your work too low, it diminishes other photographers. You may accidentally undercut the competition. Your low prices drive prices down for everyone. It might feel scary to charge something like $500 for a photo session. But about half of that disappears from just costs and taxes. Charging realistic prices help you and others in the business.
Mentoring between newer and more experienced photographers is amazing. One thing a you can do as a new photographer is meet other local photographers in the area. New photographers often don't know what they don't know. If you're new, you may be nervous to build these relationships. But experienced photographers benefit too. If you are experienced, you can share how important pricing is to success. Your shared knowledge strengthens everyone's business.
Kine follows other photographers on Instagram. When she sees someone with a lot of talent, she will send them a message. Often their prices are too low. She says, you can charge more! Many new photographers are grateful to know this.
Stop stealing customers from the local photographers
You know photographers tend to undercharge for their services. But some take it a step further. A lot of photographers who want to do destination work offer to photograph for only the cost of food and travel. Sometimes they offer it for free! There's no chance that local photographers can compete.
Would you like it if someone came to your area and wanted to shoot for free? If you do this, you're ruining the local market, Kine says. Shooting a beautiful location is a great way to build your portfolio. But you must respect the local photographer community.
Don't advertise free photography services on your social media. Instead, try reaching out to the local photographers for collaboration. Say "Hi, I am on a four-month about sabbatical in Europe. I would love to be your second shooter, or I would also love to be your assistant. Can I please tag along?"
This way, you are not taking jobs from local photographers. You also might make a little spending money!
Find what sets you apart to find dream clients
People will pay more for a unique experience. New photographers often try to be like the others. But if you copy the business strategy of others, you will get lost in the noise. Think about what sets you apart.
Kine does environmentally sustainable photography. Because of this her work is pricier. But clients that also care about the environment will want to pay her prices. Kine gets more of the clients she wants at the price she wants. Take some time to think. What can you offer that others do not? When you figure this out you can reach your desired clients.
Learn more about how to stand out so you get booked.

Episode 11
Network well and nurture your existing clients
Don't forget to build strong relationships. This will help sustain your business with new referrals and long-lasting clients. You can try networking in your community. Where you live there are many local businesses. Be sure to interact with them on social media. They will appreciate your support and will remember positive interactions. Maybe you photograph kids and they like your photos. The people behind business accounts might have children. They may also hear of another parent that needs a photographer. There is a good chance they will book with you. Positive relationships will bring business your way.
Your client base is growing. Now how do you keep the clients you love? Kine says to make existing clients feel special. If someone bought a very expensive service, break tradition and treat them to a special gift. Offer last year's clients a small free service. This could be a 10-minute Christmas card shoot. You could send everyone a simple holiday card. You could even offer candy. These gestures keep clients coming back. Whether building or maintaining your client base, do not forget relationships.
Kine wants you to know
There are multiple roads to the same goal. Creating a sustainable and successful business is not done following one path or a recipe. Kine hopes this episode gives you some new perspective, and new ideas, as to where to start your new road to success.
Find Kine:
Want more?
Learn more about the Sustainable Program
Sign up for the in-person workshop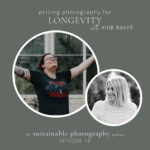 This podcast is all about education and inspiration for photographers. A sustainable business is profitable and lasting. Instead of short-term wins you want to make sure you're doing things that matter. Both to yourself, and to create the business you want. The goal of this podcast is that it will help you build and structure your business around your life, instead of the other way around.