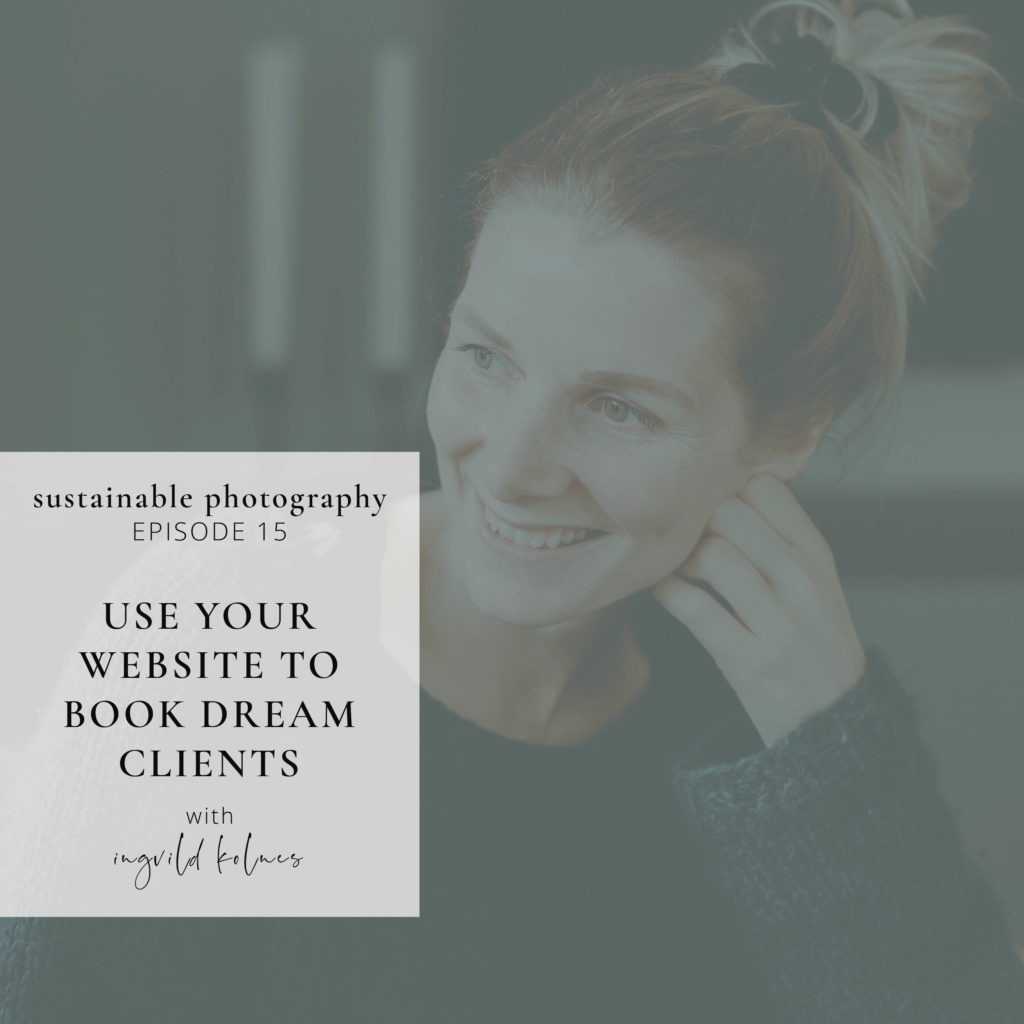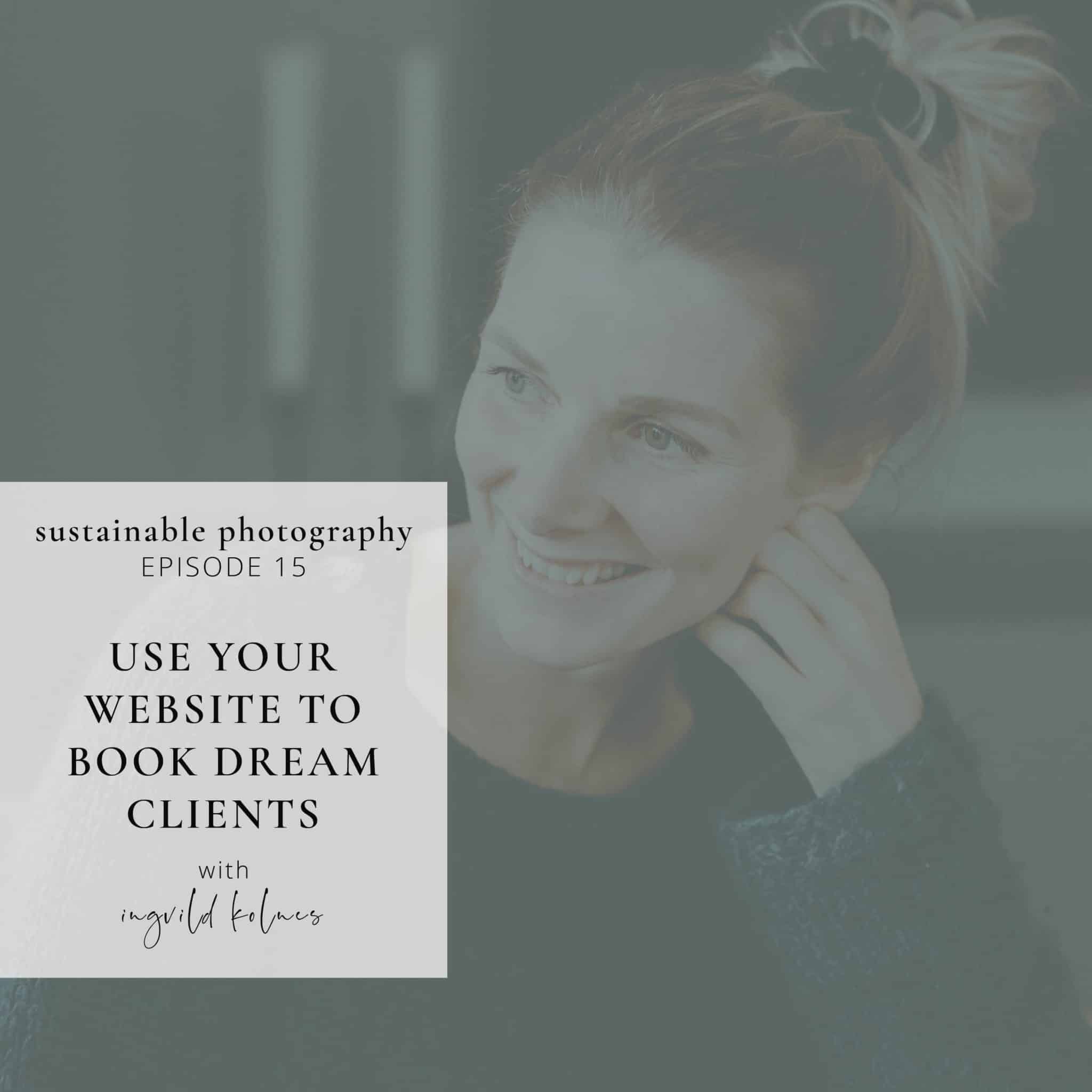 There are so many ways you can market your business and get new clients, like using social media, paying to advertise, and attending events.
In all of these examples, you're relying on someone else, and you don't own your own platform.
This episode will discuss the importance of having a website and optimizing it using Search Engine Optimization (SEO) to appear in the first search results in Google and other search engines, so your dream clients can find YOU!
Your Instagram account could get shut down by mistake. Facebook's algorithms can change at a moment's notice; that wedding fair you attend every single year might decide to sell your spot to a different photographer next year and so on.
On the other hand, your website is ALL yours.
If you're dependent on social media to get booked, you have to keep posting to be seen. A post on Facebook or Instagram might only live for a day or two. But, when it comes to your website, potential clients can find your content for months and even years to come.
Having a good website can do wonders for your business, no matter how someone might find it. It can open up so many doors for you and your business. And you know what, it's not that hard or complicated. You can do so much with what you've already got.
You don't need much technology or a fancy and expensive website. Start using your favorite images and a small size that you can get away with, and start sharing your knowledge. Write about " how to choose a photographer" or " what to wear for your family session." Think about the questions and inquiries your clients might have, and look for that solution in Google that you can offer to them.
There are still a few technical things involved, though. So let's talk about them.
How Google works and what you can do to increase the chance of showing up in search results.
Google has these little bots; they are called spiders. They crawl the web looking for links and then follow them to the page and put them into their index. So, when you search on Google, you're not actually searching the whole web. You're just searching in Google's index. Google looks through its index to find what you're looking for whenever you look up a search term. The different pages are organized based on what they're about, and that's how they can show up in search results.
To show up in the first search results, you need to implement SEO in your website. First, what is SEO? it stands for Search Engine Optimization, and it just means what you can do to get Google to like your website and recommend it to others. SEO sounds really technical, and some parts of it are a bit technical, and you will need to dive into it, but some of them are easier than you may think.
There's so much you can do. That will help your chances of showing up in search results.
Different factors come into play when Google is organizing its index. They organize it based on the websites' quality and what is the best offer to the users, which are the top website results that you see when browsing in Google.
The most important factors are:
Loading speed: how quickly your website loads. No one wants to wait a long time for something to load. Ideally, your website should load within three seconds to keep the people engaged.
Engaging content: your content should be top-notch and keep people engaged in your site; the longer they stay, the better. It tells Google to rank that website in the first pages of the search results because people think it is valuable by staying a long time in it.
Internal and external linking: having a good linking strategy in your blog post and website pages tell google how your content is organized and what matters the most. Creating a good hierarchy can really help your SEO.
Use relevant keywords: The foundation to write content that resonates with your audience starts with the solid and effective use of keywords in your website. Think of all the search terms that someone might use in Google to try to find YOU.
How to stand out in a saturated market
If you believe that the photography market is too saturated and that there are just too many photographers around. In that case, I'll get some good news for you. The more photographers there are out there, the more specialized you can be.
So, if you're the only photographer specializing in helicopter elopements, or if you're the only photographer in your area that does boudoir and a designated Studio. You have the upper hand; instead of announcing that you're a wedding photographer, maybe you can specify that you're a wedding photographer for down-to-earth couples celebrating in barn venues in your area.
That's an advantage because you'll be the expert. You'll be the preferred photographer for those wanting precisely what you have to offer. This depends on you being very clear about your dream client, though. So, that means you know where they live. You know what they want and how you can help them, and so much MORE.
There is a whole module dedicated to creating your dream client in my mentor program Sustainable Photography. And it just so happens that a new round is about to start, so, don't miss out and get on the waitlist now!. There's a bonus waiting for you.
JOINING THIS PROGRAM means:
Starting at the beginning, with clear goals and a plan for moving forward.
Breaking down your numbers for profit.
Getting clarity on who you want to work with by defining your dream client.
Building a brand and a marketing plan to attract the right clients!
Maintaining boundaries and taking care of the things that matter most in your life.
No matter how much you love photography, it's important to look at the whole picture. Join the waitlist here.
What pages actually show up when someone is searching?
Let's say someone is searching for "London photographer," these words would need to appear on your website for you to have a chance of showing up in the search results.
The spiders mentioned before check the titles and text on your website, and they determine what the page is about. But, using the right words is only the start. You still have to convince the spiders that you have great content worthy of showing up. And it also has to be better than many other people's. Especially if you live in an area with many photographers, that's why narrowing down who you want to work with is such a good idea.
Think about some keywords that people might search for to find YOU. As a photographer, as a family photographer, as a family photographer in your area, or is it a special kind of family photographer in your area like film, Boho, natural, traditional lifestyle, you name it. The more specific you are, the easier it's going to be for you to show up for those search terms.
You can pay to show up in Google ads, but you can't pay to show up in organic search results. You have to do the work or pay someone to do it if you prefer that. But either way, it includes having a quality website with good content. Having a quality website with quality content can help you win your so more clients. So, you should start now to work on it!
It was not that long ago that my own website was completely invisible in search results. I actually sat down, and I scrolled through like, 200 pages of search results, trying to find my own website. And it wasn't there. But, I did the work, I made sure I had good content, and I improved my website.  
Before you know it, my website was ranking right up there on the first page when you would Google wedding photographer here in Norway. That was such a huge step for me, not just because I'd worked really hard at it, but because it changed everything. Suddenly, I could choose who I wanted to work with, increasing my prices by quite a lot. I was fully booked. And I just had a lot more choices.
I would just get my clients on autopilot.
Summary
When your website is working for you, you can skyrocket your business.
Your website's content and keywords have to be relevant. Your website doesn't have to be big, doesn't have to be fancy, but it has to be good.
It has to be quick and easy to use. Your website has to have authority, which links going into your website will help you get, and it's all about getting to page number one. Because so few people will click on it to see what's on the next page.
If you're ready to take your photography business to the next level, you should sign up for the free challenge that starts next week. Sign up here.
Remember, it's not about showing up. It is about showing up in front of the right people.
Want more?
Learn more about the Sustainable Photography Program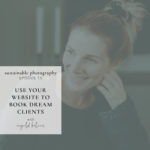 This podcast is all about education and inspiration for photographers. A sustainable business is profitable and lasting. Instead of short-term wins you want to make sure you're doing things that matter. Both to yourself, and to create the business you want. The goal of this podcast is that it will help you build and structure your business around your life, instead of the other way around.