Here's an earth-grounding stat for you…
"People form a first impression from your website in a mere 50 milliseconds"
Make no mistake – your website is a powerful tool for selling your service. Choosing the right website platform is one of the most important factors that will influence everything from its design flexibility to its Google ranking. So in this blog post, I want to explain why I LOVE WordPress, and what it could do for you.
What's WordPress?
WordPress is a type of website platform, and it's incredibly popular – powering 25% of all live websites (its closest competitor comes in at just 2.8%). This platform is loved the world over for being easy-to-use, flexible and cheap to set-up and run.
WordPress allows users to add content and edit pages without the need for any coding knowledge at all. The 'backend' is where this takes place – in a dashboard accessible by password and not visible to the outside world.
Setting the scene with themes
As a photographer, you crave creative freedom to express yourself – you meticulously handpick images to showcase your skills, and select typography with painstaking care.
When it comes to your website, it simply HAS to offer beautiful themes that reflect who you are as a professional. On this front, no other website platform comes close to offering the same number of themes to pick from.
My top tip: Make sure you know how many times a theme has been downloaded, and steer clear of the most popular themes – the last thing you want is for your site to look like another photographer's.
| Read also: Community over competition – 4 reasons why you should find your tribe
Hosting is free (or reasonable)
You can choose to host your WordPress site completely free of charge (although you should be aware that free hosting usually has limitations to it, such as maximum traffic, restricted customer support and more). And there are plenty of low cost offers.
WordPress websites are LOVED by Google
SEO – if it's a term you're not familiar with, you may want to take a time-out to learn about it.
Standing for Search Engine Optimisation, SEO describes the things that impact where your website is placed on Google (and other search engines).
There's thought to be around 200 'ranking factors' at play (although Google never lets on the specifics, as website owners would otherwise try to cheat the system).
Thankfully Google LOVEs WordPress, and you may also be happy to learn that plugins can actually guide you through the process of making your website SEO-friendly – with many automating some of your SEO to boot (click right here to explore WordPress SEO plugins).
Features… features everywhere
From Live Chat to website analytics, onto contact forms and newsletter sign-ups, WordPress makes it easy and almost instant to add the features you need to make the most of your online presence.
In short, there's probably a plugin for whatever you want to achieve (just head over to the library of WordPress Plugins to explore just what's possible).
Read also: This is how you set goals that'll change your life
WordPress was built to blog
As a photographer, blogging could potentially be your number one source of ideal clients – you know, the ones who truly value your creative input and unique style (and if you don't know, you may want to read my other blog: shaping an amazing client experience).
On your blog, you should be creating valuable content for your ideal clients to consume. As a wedding photographer who targets free-spirited, bohemian brides and grooms, I blog about elopements, weddings in the great outdoors and quirky ideas for taking care of guests.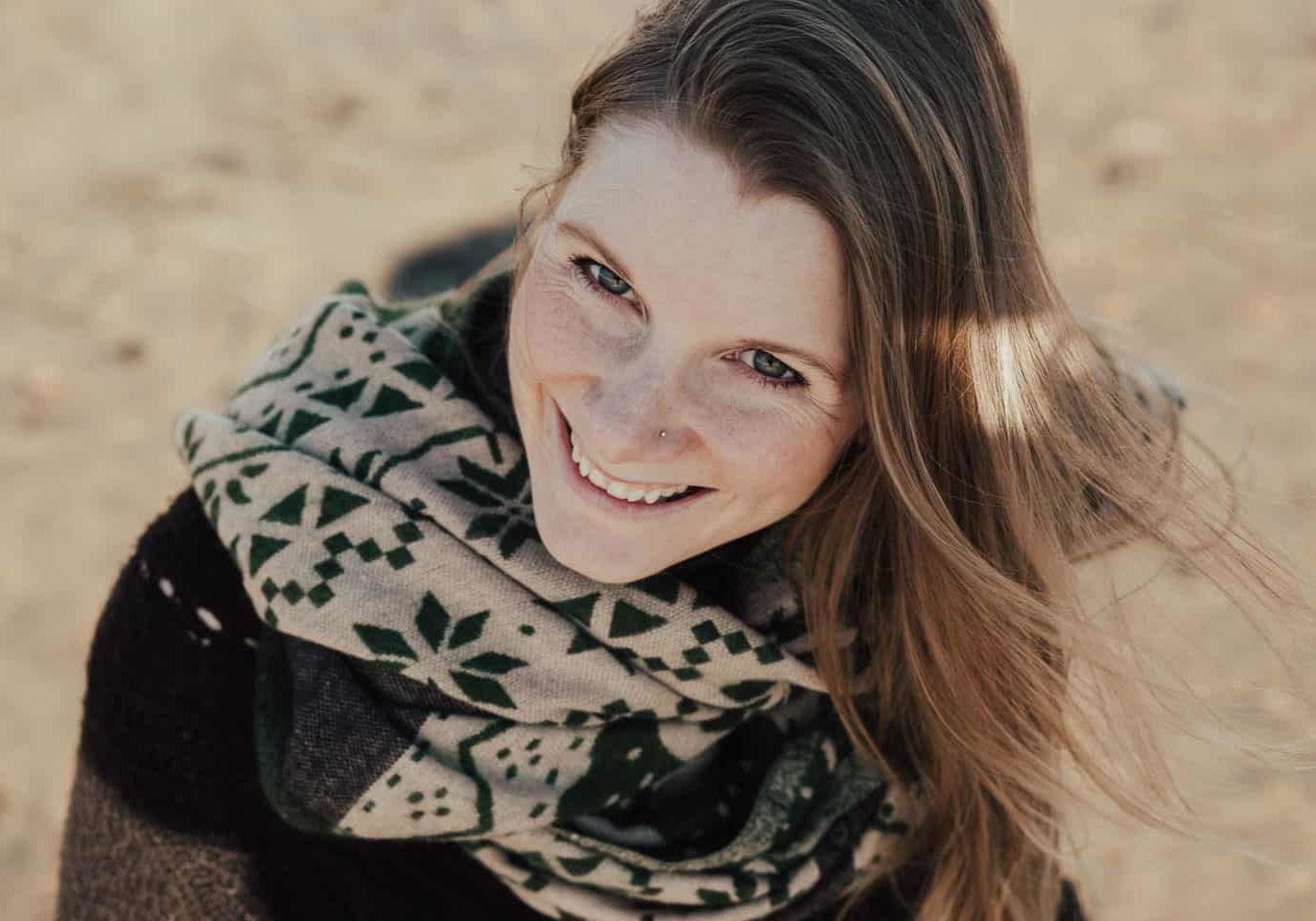 I spend as much of my time as I can being outside taking photos of happy couples in love. I live with my dog and boyfriend in Norway, and I love traveling the world in search of beautiful locations and love stories.
DOWNLOAD THE FREE seo workbook HERE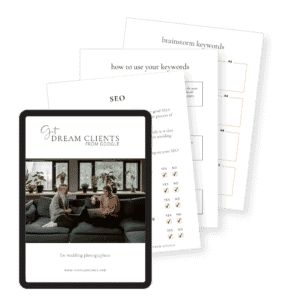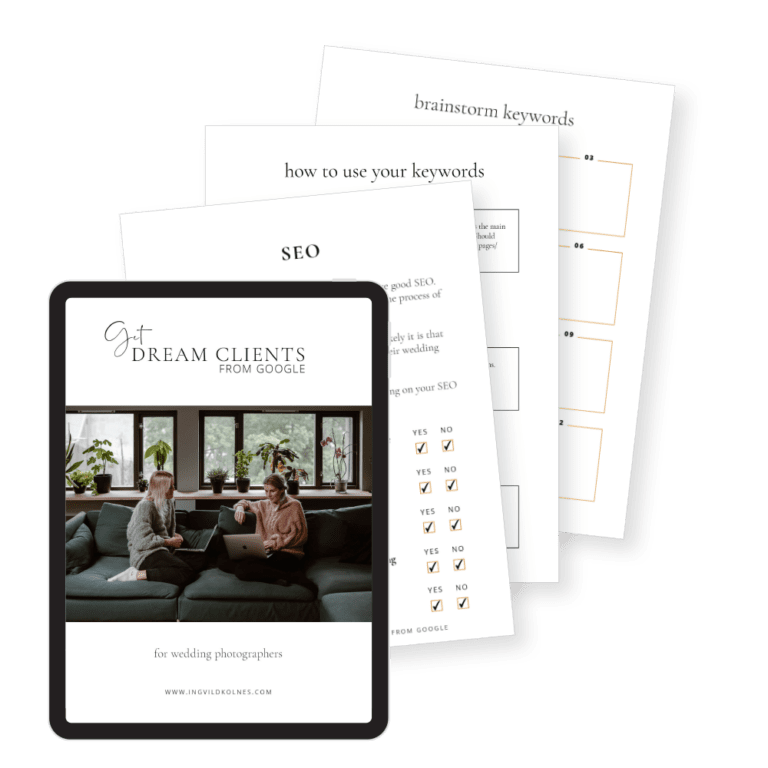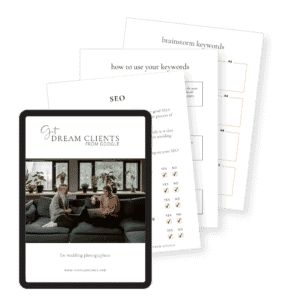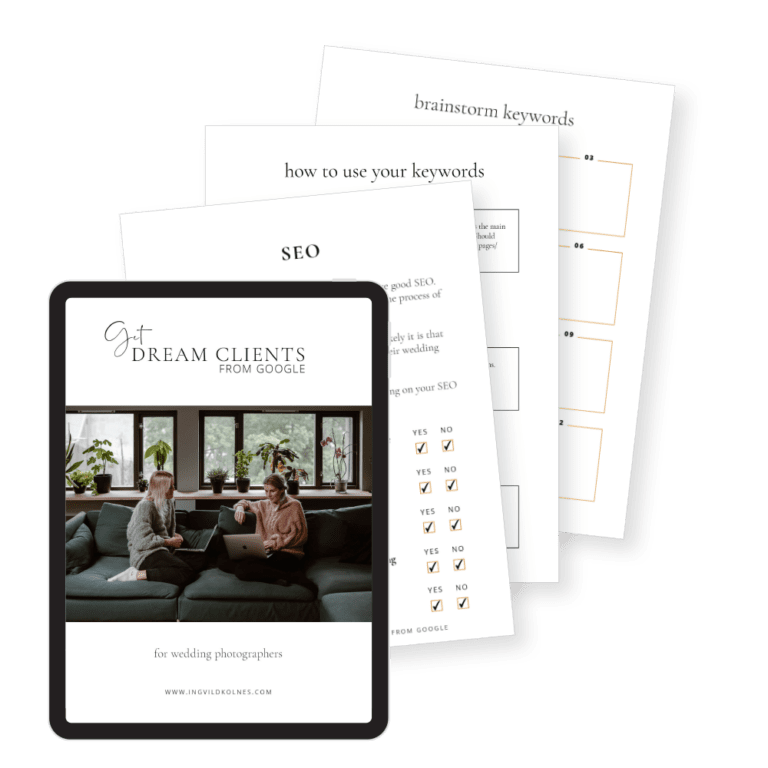 DOWNLOAD THE FREE seo workbook HERE