Learn to create offers clients will be excited to buy! 
JOIN THE LIVE WORKSHOP SERIES
Learn how to package and price your photography
Your photography is stunning, but… you're not really making a lot of money. It's time to get clear on how to price the value you offer to clients.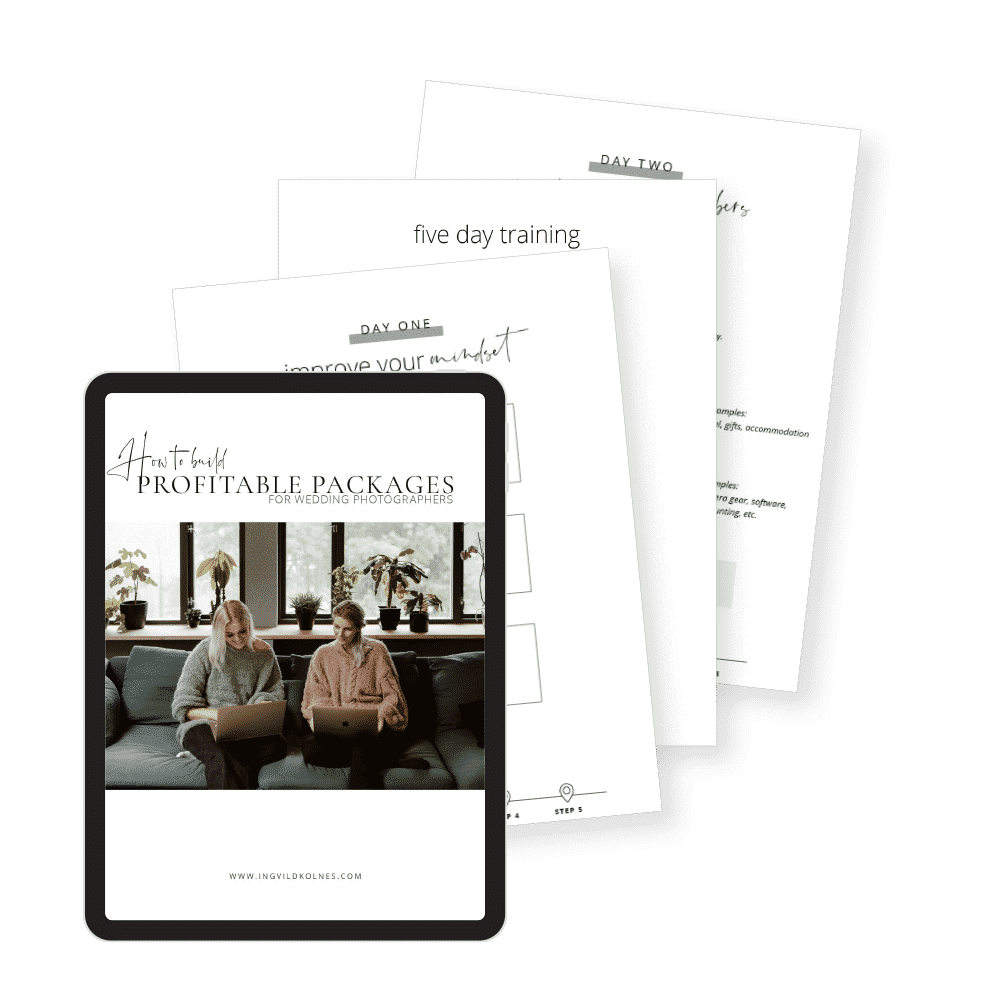 Sign up to the pricing challenge here
A mentor for talented photographers who want to have a profitable business. A business where you make good money and attract clients you love working with. All while maintaining a healthy work-life balance.
I thrive on learning and growing my business, and I've gathered all my knowledge to give to you. Why? Because I've been there.
I've made all the mistakes and taken all the detours. I've charged way too little and taken on every wedding in sight without a second thought. This led to both burnout and working with couples I didn't truly resonate with.
But, I figured it all out, and I've made it into a system that I want to teach you. How to calculate your rates so that you know that you're profitable. Empower you to say NO, so you can have weekends off every summer - and when a couple just isn't the right fit. How to outsource and automate to free up your time and mental space, not to mention get your creative juices flowing again. I'll teach you how you can shoot fun weddings, where your couples really care how their day looks and feels. After almost a decade as a wedding photographer, I can help you get to where you want to be. I'll even help you figure out where that is.
This 5 day live training series
WILL COVER THE FOLLOWING:
Improve your mindset when it comes to pricing. Figure out what's really keeping you from charging what you know you should.

Figure out how you're doing. How profitable - or not profitable are you right now?

Get to the bottom of how much you should be charging.

Learn my method of building low, medium and high packages.

Uncover the 3 pricing mistakes that all photographers should avoid.
You need to be profitable
sign up below to get all the information you need to join the challenge